Spencer "Lead Dispencer" Hoglund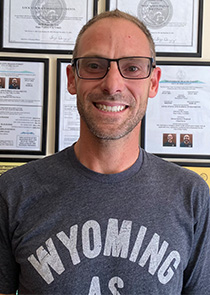 Spencer Hoglund was born and raised in the San Fernando Valley, California. Spencer has focused much of his life on his dual passions of competitive shooting and gun collecting. He has traveled the World, competing and making friends across 18 countries, and over 40 states. But Spencer's true notoriety came under a different name...
Lead Dispencer; It's one of the best aliases in Cowboy Action Shooting, and certainly one befitting a World Champion. In the smoky, fast-paced, high adrenaline world of Cowboy Action Shooting, no name draws greater respect from fans, or fear, from opponents, than Spencer's.
After competing in Sporting Clays, Spencer Hoglund, aka Lead Dispencer, became a three-time Overall SASS World Champion (6 Time Category Winner), a Five Time Overall SASS National Champion, and his State, Regional, and local wins too numerous to be listed here. Many familiar with the evolution of the sport will tell you that Spencer changed the game. Spencer was for the 2000's what China Camp was for the 1990's, and when you see no one over 30 in the top 20 at "End of Trail" – you can thank Spencer for that.
Top Shot, Sons Of Guns, American guns, Triggers, American Shooter, Shooting USA, Cowboys, Catch 22, The Wild, Wild, West... are some of his television appearances alone, showcasing his incomparable skills with a rifle, pistol, and shotgun.
In addition to his shooting career, Spencer was quite an athlete, having been the Team Captain of the California State University Northridge Water Ski Team, where he earned his Undergraduate degree, graduating Summa Cum Laude.
Spencer continued his education by earning his Master's in Business Administration, at Pepperdine University's Graziadio School of Business – where he graduated second in his class.
Now, he heads up the crew at Lock Stock and Barrel Investments. The idea for an internet firearms and accessories retailer, combined with an ebay outlet was his, and has been both rewarding and challenging. Spencer's nature is to always be prepared for that next challenge.