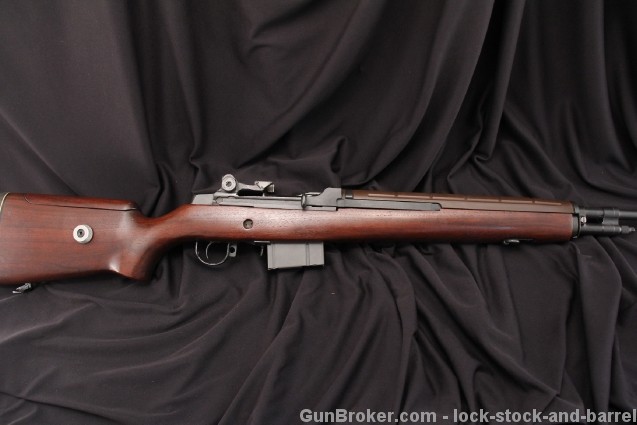 Glen Nelson Springfield M21, M-21 .308 Winchester M1A Bedded National Match Semi Auto Target Rifle
Make: Springfield
Model: M1A (M21)
Serial Number: 046453 (this rifle is from the Golden Age of M1A's)
Year of Manufacture: 1980's
Caliber: .308 Winchester
Action Type: Semi-Auto, Removable Magazine
Markings: The bolt is marked "7790186 / TRW ZJ", the trigger housing is marked "7267030-1". The receiver is marked 0468 . We did NOT remove the stock from the action or barrel because it is bedded. The metal adjustable cheek piece arm (inside under the extension) is marked "1733" on the left side. The receiver is marked "U.S. Rifle / 7.62-mm M1A / Springfield / Armory / 046453".
Barrel Length: Approx. 24 ½" to the end of the California legal muzzle break.
Sights / Optics: This rifle is mounted with National Match sights, the front sight is marked "NM 062", and the rear sight has the NM hooded aperture and is marked "HRA-W".
Stock Configuration & Condition: The stocks are the special wide M-21 configuration with smooth oiled wood. The cheekpiece is adjustable with a screw on the right side of the buttstock. There are just a few compression marks and minor surface scratches. These marks are found at the pistol grip and near the front sling swivel. The stock is fully bedded. The LOP measures approx. 13" from the trigger to the back of the Pachmayr rubber buttpad. The rubber is pliable.. The stocks rate in about Excellent overall condition.
Type of Finish: Military Matte
Finish Originality: All Original
Bore Condition: The bore is bright and the rifling is sharp and deep. There is no erosion.
Overall Condition: This rifle retains about 98% of its metal finish. The balance of the finish shows minor wear in and around the bolt area. There is a minor rub / handling mark on the operating rod. this is a rearely used and sharp rifle. The markings are clear. Overall, this rifle rates in about Excellent condition.
Mechanics: The action functions correctly. We did not fire this rifle. The trigger is smooth and drops sharply after about a 1/8" take-up (the way competitors like them).
Box, Paperwork & Accessories: Sling swivels are provided.
Our Assessment: This is a rare and special M1a. This is an early Springfield built by Glen Nelson of Nelson Custom for Springfield with an M-21 stkc and all National Match quality parts. A recent phone coversation with Springifeld about this rifle has confirmed this.
From M14 Rifle History and Development Second Edition (04/16/06 draft):
"Springfield Armory, Inc. and Glenn Nelson
Glenn Nelson joined the U. S. Army in 1954 and became a member of its shooting team in 1961. He earned Distinguished Rifleman status in 1962 as well. He remained on the Army shooting team until late 1965 when he accepted an offer to become a match armorer. He completed the U. S. Army match armorer school at Rock Island Arsenal then began building M14 rifles for competition as part of the USAMTU at Fort Benning. Mr. Nelson went on to serve in Viet Nam. He retired from the U. S. Army in 1975. Bob Reese hired Glenn Nelson to establish a shop that could build competition grade M1A rifles for Springfield Armory, Inc.
Mr. Nelson began building Ultra Match M1 Garand and National Match and Super Match M1A rifles from his home. However, by 1987 the business had grown such that the custom rifle shop occupied 5,000 square feet of building space. Over the years he put together a first rate staff of former AMTU match armorers and former Army team shooters. Mr. Nelson and his staff kept up with and implemented the latest accurizing techniques used by the AMTU as time went on. Mr. Nelson no longer builds competition rifles for Springfield Armory, Inc but did so until at least 1993.
The custom Super Match M1A rifles were fitted with either Douglas or Hart heavyweight barrels. These heavyweight barrels were available in 1:10, 1:11, or 1:12 twist rates. Mr. Nelson required the air-gauged and stress-relieved barrel blanks supplied to him have a bore diameter between 0.2999 " and 0.3004 " and a groove diameter between 0.3079 " and 0.3084 ". The heavyweight barrel blanks were supplied with rifling obviously, but the rest of the machining was done by Mr. Nelson or his employees. National Match medium weight barrels were supplied by Springfield Armory, Inc. to Mr. Nelson already for installation by other suppliers. The operating rod guides were soldered on to the barrels. For individual customers, Mr. Nelson machined hand picked medium weight and heavyweight Douglas Premium barrel blanks and installed them in rifle builds unless the customer specified otherwise.
To give the reader an idea of what is possible with the M14 rifle and a talented armorer, the following will illustrate the point. In April 1986, Glenn Nelson built a Super Match M1A rifle from stripped receiver serial number 033187. The build included all TRW parts and a National Match rear sight. After final assembly, this rifle was tested on amachine rest. It grouped fourteen shots under the size of a nickel at 200 yards with 168 grain Sierra bullets. The test target was presented to the buyer, a member of the Second Army Shooting Team.
Mr. Nelson and his staff used the same Springfield Armory, Inc. M1A receivers used on standard models to create state-of-the-art competition rifles. They performed the match conditioning work and 90 % of the assembly on the receivers sent to the Nelson shop in Columbus, GA by Springfield Armory, Inc. Mr. Nelson purchased TRW bolts for building all the National Match and Super Match M1A rifles in his shop. Headspace on these rifles was kept between 1.631 " and 1.632 ". The M1A rifles dressed in wood stocks were coated several times with raw linseed oil. The almost-complete rifles were shipped back to Springfield Armory, Inc. for final assembly, test firing,packaging and shipping. Final assembly in Geneseo, IL included installation of the front and rear sights, operating rods, hand guards and slings."
Sold For: $3,025