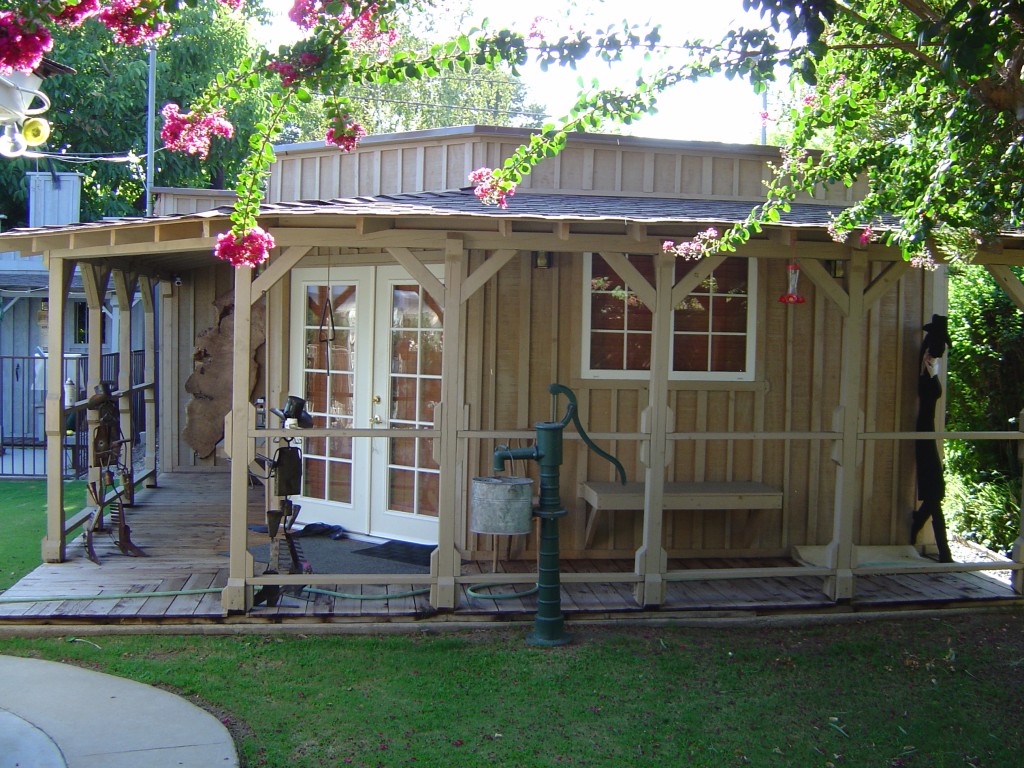 How It All Started… The Gun Room
Taking Stock #22; How It All Started… The Gun Room
In 2001, Spencer and his Dad decided it was time to build a play room in the back yard. The vision was a pool table, A 73″ TV and a bunch of guns. The two of them hammered boards together for about 6 months, until what became affectionately known as "The Gun Room" was standing on its own.
All the guns in the Hoglund Collection were put on display in The Gun Room, only to find about 200 of the 300 available spaces were empty. So… the real collecting began. A wish list was assembled, listing all of the noteworthy, rare and interesting guns desired for the room.
After about 8 years, the room was finally full. The last piece to find a home in The Gun Room was a .455 Webley Fossbery Semi Automatic Revolver. Preceding this gun, were all the Winchester Lever Actions (From the S&W Volcanic to the 1895), all of the Colt automatics (From the 1900 Sight Safety to the 1911-A1), all primary US Battle weapons from the Civil War to the Korean War, all the U.S. Military and Trench Shotguns and an extensive collection of documented firearms. These guns are all tastefully displayed, with US flags of the approximate appropriate vintage and in era-specific cases.
Today, the collection is one of the most extensive in the country. The Colt Automatics Collection is certainly one of the best ever assembled (Including both civilian and military contract pistols). There are even two 1907 Colt's in the Collection, several General Officer's Pistols, a mint U.S. Colt 1900 Sight Safety, a mint Should Stock Colt Model 1905, and dozens more with boxes and ammo for all.
The Colt's were Spencer's passion, but Winchester is where Steve spent his researching time. The collection includes SIX Volcanic's, an 1860 Henry, several 1866's, '73's, a Deluxe 1876 and 1886 and a Winchester 1895 in .405 WCF. Since "completion", the Hoglunds have been trading up and improving their collection whenever possible.
The new areas of interest (being that the wish lists have been exhausted) are Colt Percussions, non Winchester Lever Actions and Secondary US Battle weapons. Anything with a story and documentation is desired; and among the most recent additions are a Union Switch & Signal 1911-A1 carried on the B-17 Liberty Belle, The only known Smith & Wesson Number 2 with a trigger guard attributed to Captain Pickett and John Moses Browning's personal Single Action Army.
In addition to the guns, military and war memorabilia from all vintages are displayed. From Canon Shells and Uniforms, to Norton Bomb Sights and documentation, The Gun Room is akin to a Museum.
So this is where Lock Stock and Barrel derived its passion for collecting and the accurate representation of the guns they sell. As collectors first, they know what buyers want to see, and present the guns they sell with full disclosures and abundant pictures.
Here are a few samples of the collection:
By: Spencer Hoglund