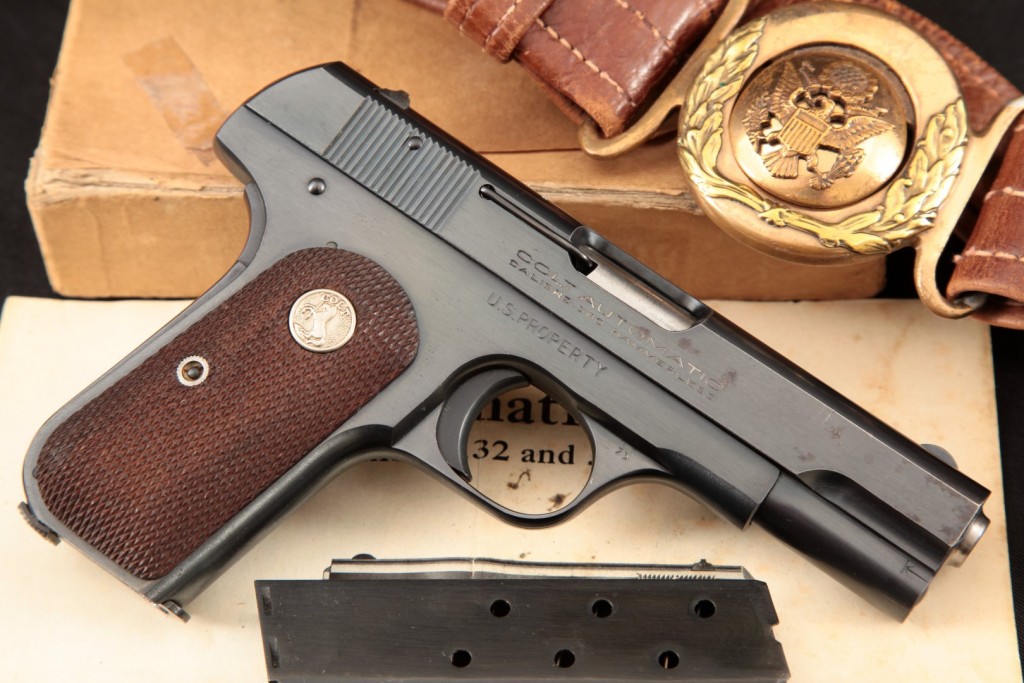 Colt Model 1908 General Officer's Pistol Issued to Gen. Raymond Foster Fowler
____________________________________________________________________________________________
FOR SALE: $8,000
____________________________________________________________________________________________
Raymond Foster Fowler studied at the University of Nebraska, United States Military Academy, United States Army Engineer School graduating with honors, and at the Command and Staff School, Fort Leavenworth. He was commissioned a Second Lieutenant in the United States Army in 1910 and was active in the Panama Canal construction zone from 1909-1911. Fowler was with the American Expeditionary Forces 1917-1918 with the 16th Engineers and constructed a double track railway bridge across Loire River and served with Tank Corps in the St. Mihiel Offensive. From 1918-1920 he was Professor of Practical Military Engineering at the United States Military Academy. In the 40s he would become the District Engineer at Savanna Georgia and Commanding Officer of the 20th Engineers Regiment. At the outbreak of the Second World War he was the Director of Operations and Training at the Office of the Chief of Engineers, mid-war would become the Assistant Chief of Engineers for military supplies and would finish his career as the Division Engineer, South Atlantic Division, U.S. Engineers.
Date of death: January 19, 1949
Raymond Fowler graduated from the U.S. Military Academy at West Point, Class of 1910. He retired as a U.S. Army Brigadier General.
AWARDS AND CITATIONS
Army Distinguished Service Medal
Brigadier General Raymond Foster Fowler (ASN: 0-2832), United States Army, was awarded the Army Distinguished Service Medal for exceptionally meritorious and distinguished services to the Government of the United States, in a duty of great responsibility as Division Engineer, South Atlantic Division from 1943 to 1946.
General Orders: War Department, General Orders No. 41 (May 6, 1946)
Action Date: 1943 – 1946
Rank: Brigadier General
Company: Division Engineer
Division: South Atlantic Division
Promotions
| | |
| --- | --- |
| 1934-10-01 | Lieutenant-Colonel |
| 1939-02-18 | Colonel |
| 1942-06-19 | Brigadier-General (Army of the United States) |
| 1946-03-31 | Brigadier-General |
Service
| | | | |
| --- | --- | --- | --- |
| 1932-07-02 | – | 1936-07-01 | Attached to Office of the Chief of Engineers |
| 1936-07-02 | – | 1940-XX-XX | District Engineer, Savannah, Georgia |
| 1940-XX-XX | – | 1941-XX-XX | Commanding Officer 20th Engineers Regiment |
| 1941-XX-XX | | | Director of Operations & Training, Office of the Chief of Engineers |
| 1941-XX-XX | – | 1943-XX-XX | Assistant Chief of Engineers for Military Supplies |
| 1943-XX-XX | – | 1946-03-31 | Division Engineer, South Atlantic Division |
| 1946-03-31 | | | Retired |
____________________________________________________________________________________________