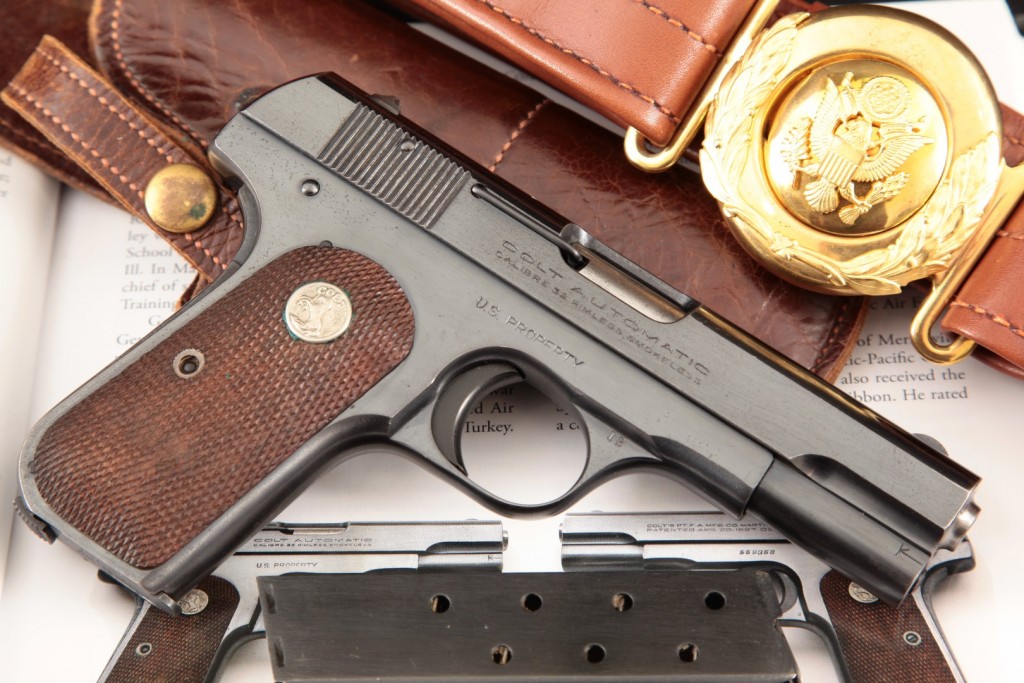 Colt Model 1903 General Officer's Pistol Issued to Gen. Lawson S. Mosley Jr.
____________________________________________________________________________________________
FOR SALE: SOLD
____________________________________________________________________________________________
Gen. Lawson S. Mosley Jr.: "A young southern gentleman of the old school; a man of fiery temper; a man honest to the core, with a rapid fire brain and fine perception of life." These words from the 1934 HOWITZER constitute an accurate description of Jeff Moseley, though they include no mention of his generous hospitality. We are richer because we had the chance to know him and to serve with him.
Jeff was born 2 November 1911 at Lyons. Georgia, and in 1928 he graduated from Jesup High School, Jesup, Georgia. He attended the University of Georgia, and in 1930 received an appointment to West Point from the 11th Congressional District. He was a serious student, a member of the wrestling team for four years, and won renown as a formidable poker player. In the words of one classmate. "Rhett Butler was a hack compared to Jeff." He graduated high in academic standing, and received the Bachelor of Science degree and a commission as second lieutenant in the Coast Artillery Corps.
Together with about 60 classmates, he was detailed to the Air Corps, and ordered to Randolph Field, Texas, for pilot training. In addition to winning his wings, he won the heart and the hand of Elizabeth Altmann; he and Betty were married soon after his completion of flight training. They arrived as bride and groom at March Field, California, where Jeff served as a pilot in the 19th Bombardment Group. There he was teamed with classmate George Dany as one of the first Combat Teams in the newly-formed General Headquarters Air Force. The techniques and procedures of team-work which they developed in flying, navigating, and bombing, were adapted to new generations of aircraft and proved decisive in the air war over Germany and Japan. During this tour, daughter Betts (Elizabeth Lucille Moseley) was born. The proud father was soon promoted to first lieutenant—the first of many promotions he was to earn. Also at March Field, Jeff formed a lasting friendship with Captain Norris B. "Skippy" Harbold; they were to serve together often in the years to come.
In 1938, a change of station was ordered, taking the Moseleys to Chanute Field, Illinois—home of the Air Corps Technical School. Jeff entered as a student in the officers' Aircraft Maintenance Engineering Course, which required nine months. By graduation time, war clouds were obvious over Europe, and the United States Army Air Corps embarked on a very extensive expansion. One result was that all officers in Jeff's graduating class were retained to take part in the expansion of the Technical School. Jeff's assignment was commander of the 32d School Squadron. In this position, he won promotion to captain, and gained valuable experience in leadership and administration. Moreover, he earned a reputation for a high degree of loyalty to his subordinates. Another important event in the Moseley family at Chanute Field was the birth of a son—now Lieutenant Colonel Richard S. Moseley, United States Air Force.
In 1941, the Air Corps began training cadets as navigators, and Jeff's friend, Colonel Harbold, was put in charge of the program. He asked for Jeff, and the request was granted; this meant a move to Barksdale Field, Louisiana. After a brief tour during which the organizational aspects of the program were worked out, Jeff was promoted to major and reassigned as director of the Air Navigation Training School at Turner Field, Albany, Georgia. There were light moments in spite of the seriousness of the situation; General Harbold gives the following account of a practice black-out: "Our blackout was complete except for the light on top of the flagpole. Some perfectionist took care of this—he chopped the light cable."
The entire Navigation School moved to Selman Field, Monroe, Louisiana. Once more I quote General Harbold: "We enjoyed a continued rapport and respect. Jeff was one that believed in hard work. His aim was to get all matters contained and on an operating basis…In this he succeeded admirably. It was a distinct pleasure to work with Jeff and also to relax with him…Jeff was a friend and an admired officer, I was privileged to have known him and work with him." Promotion to lieutenant colonel came in 1942, and to colonel in 1943. Also in 1943 came transfer to Maxwell Field, Alabama, with duty in Southeast Air Corps Training Center (soon thereafter redesignated the Army Air Forces Eastern Flying Training Command). In this headquarters, Jeff's job was Assistant Chief of Staff, Training; high level staff experience gained on this assignment was directly applicable to his next position, and valuable in several future assignments as well.
In May 1944, he became Assistant Chief of Staff, Training, of the China-Burma-India Air Forces Training Command; and after a short interval, rose to Chief of Staff of this command. A friend and classmate, General Harvey Alness, reports: "The command was a joint venture involving the British and United States and required a wealth of tact and good sense—yet also demanded a degree of firmness. Goodness knows Jeff could be firm and yet roll with the punch at times. The problems were largely related to logistics—missions had to be planned with an eye to the cost in supplies at all times. With the supply lines provided by the United States, Jeff was at all times forced to temper some of the combat leaders' grandiose ideas with good sense in terms of 'how feasible was the idea' over the long term. The theater of operations extended some 3,000 miles in width and 2,000 in depth—an area that far exceeded any other theater. It ranges from tropical heat to the cold of the Himalayas—all of which called for a broad base of knowledge which Jeff surely possessed. To say he did well is mild praise—he was tops—a respected man by Royal Air Force and United States Air Force alike." His duties on this assignment involved stations at Karachi, Chungking, and Shanghai, and he was awarded the Special Breast Order of the Yun Hui, with ribbon.
Returning from wartime duty, Jeff went to Fort Leavenworth, Kansas, as a student in the Second Command Class, Command and General Staff School. On graduation, he was appointed Deputy Assistant Chief of Staff, Plans, at Headquarters, Air Materiel Command, located at Wright-Patterson Air Force Base, Dayton, Ohio. This was a short assignment, because his familiarity with training programs was needed; he was placed in command of the Air Force training station at San Marcos, Texas. Two flying training schools were located on this base—one for helicopter pilots and the other for piolts of liaison aircraft—and coordination and supervision of these programs required a leader with the skill and experience that Jeff possessed. His skill and tact were needed in the extreme, as on one occasion when the Governor of Texas misunderstood the agreed signals and consequently was thoroughly "dusted" by one of the helicopters. But this crisis, like several others, was smoothed over to the satisfaction of all.
From San Marcos, a short move was made to Randolph Air Force Base, with duty in Plans, Training, and Operations of Headquarters, Air Training Command. This job involved revamping the entire flying training program with a twofold objective—to adapt the program to post-war equipment, and to modify the program to take advantage of the lessons learned in the war. In the words of his Chief of Staff, he "proved to be an extremely competent staff officer—sharp, direct, convincing, and did his homework well. Additionally, he was an outstanding leader—his section produced the most work with the highest morale."
A coveted assignment as student at Air War College followed in 1949; this meant a year of study and relaxation in the familiar setting of Maxwell Air Force Base, together with many friends from all of the armed forces, plus representatives of the State Department, the Royal Air Force, and the Royal Canadian Air Force.
The year at Air War College provided an opportunity to review global power structures and strategies, with emphasis on air power. On graduation, Jeff was sent with his family to Istanbul, Turkey, as adviser to the Turkish Staff College. For this two-year assignment, the Moseleys found a lovely home on the campus of Robert College, overlooking the historic fortress Rameli Husar, on the Bosphorus. Turkey at this time was a new member of the North Atlantic Treaty Organization. Jeff served well in the role of adviser, providing knowledge and understanding of Air Force doctrine, strategy, and tactics to one of our staunchest allies.
Jeff was selected to attend National War College in 1952. In this highest and most prestigious of all educational institutions of the armed forces, lessons of World War II were reviewed again; strategies for the Cold War analyzed and discussed; and strategies for the future compared and evaluated. The concepts and insights gained in this school year, as well as the friendships renewed and formed, were refreshing for Jeff and beneficial for the service. He was able to put many of the lessons learned into practice on his next assignment, in War Plans Division, Headquarters, United States Air Force. He earned promotion to Chief of this Division, and to brigadier general, in 1956.
Following five years in Washington—four of them under the stress that only the Pentagon can impose—Jeff was transferred to Headquarters, Pacific Air Force, at Hickam Air Force Base, Hawaii. His assignment was Assistant Chief of Staff, Plans; for three years he worked on highly classified projects to further the security of the United States and her allies in the Pacific. This involved travel to, and coordination with, allied nations as diverse as New Zealand, Australia, Philippines, Thailand, Taiwan, Korea and Japan. On completion of this assignment, he was designated Director, Research Studies Institute (now Aerospace Studies Institute) at Maxwell Air Force Base, Alabama.
After a year at Research Studies Institute, Jeff was retired for physical disability in July, 1961. His decorations, in addition to the Special Breast Order of Yun Hui (mentioned above), included the Air Medal, and the Legion of Merit with Oak Leaf Cluster. For a year, he worked forming syndicates, but discovered that this was not exactly what he would like to do. He returned to Montgomery, Alabama, where he became a member of the Lions Club and the Retired Officers Association. He established his own real estate company, and was quite successful. On September 4, 1968, he was taken painlessly and suddenly.
A classmate wrote: "Jeff and I last served together at the Air War College at the beginning of the Korean War. Seminars with Jeff were always stimulating. His keen wit, dry humor, and inventive mind showed on his sleeve."
He is survived by his wife Betty; daughter "Betts" (Mrs. R.E. Cartwright Jr., of San Jose, California); son Dick, now stationed at Tinker Air Force Base; and grandson Sean Cartwright.
Here are extracts from notes written by his daughter:
"A few thoughts about Daddy—Sense of humor always. His eyes crinkled so and lit up when he laughed. I know of no one who loved a practical joke more than he did…
"Southern West Pointer with all it brings to mind—demanding, the 'boss'…He mellowed a lot after I got into high school and gave him some of his own 'Moseleyness.'
"Always dependable. When I had two (!!) car accidents within a few months in Washington, DC, he was kindness itself. Small $50 things, but he didn't yell and scream— which he could do very well."
You were good for us, Jeff—for your family, for your friends, for your country. You have given us many reasons to be proud of you, and we are. Rest in peace.
-PTH
____________________________________________________________________________________________
VALOR Awards: 
Lawson S. Moseley , Jr..
Date of birth: 1911
Date of death: September 4, 1968
Place of Birth: Georgia, Lyons
Lawson Moseley graduated from the U.S. Military Academy at West Point, Class of 1934. After serving in the Army Air Forces in World War II, he transferred to the U.S. Air Force when it became a separate branch of service in 1947. He retired in 1961 as a U.S. Air Force Brigadier General.
AWARDS AND CITATIONS
Legion of Merit
(Citation Needed) – SYNOPSIS: Colonel (Air Corps) Lawson S. Moseley, Jr.., United States Army Air Forces, was awarded the Legion of Merit for exceptionally meritorious conduct in the performance of outstanding services to the Government of the United States with Headquarters, Army Air Forces in the China-Burma-India Theater of Operations, from 1943 to 1944. The singularly distinctive accomplishments of Colonel Moseley and his dedicated contributions reflect the highest credit upon himself and the United States Army Air Forces.
Action Date: 1943 – 1944
Legion of Merit, Oak Leaf Cluster
(Citation Needed) – SYNOPSIS: Colonel (Air Corps) Lawson S. Moseley, Jr.., United States Army Air Forces, was awarded a Bronze Oak Leaf Cluster in lieu of a Second Award of the Legion of Merit for exceptionally meritorious conduct in the performance of outstanding services to the Government of the United States with Headquarters, Army Air Forces in the China-Burma-India Theater of Operations, from 1943 to 1944. The singularly distinctive accomplishments of Colonel Moseley and his dedicated contributions reflect the highest credit upon himself and the United States Army Air Forces.
Action Date: 1943 – 1944
____________________________________________________________________________________________