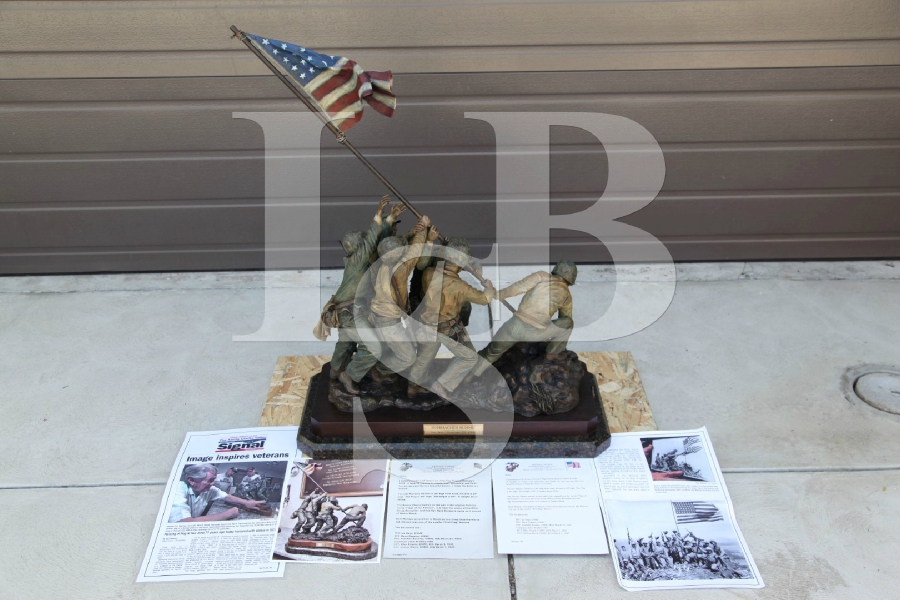 90 lb. Bronze Statue of the Iwo Jima Flag Raising
Sold For: $35,000.00
LSB#: 160712DN01
Make: This statue was designed and created by David Venell
Description: This is a 90 pound bronze statue tribute to the flag raising on Iwo Jima that occurred on February 23, 1945 by Sergeant Harlon Block, Sergeant Mike Strank, Corpsman John Bradley, PFC Franklin Sousley, PFC Rene Gagnon and PFC Ira Hayes. The statue measures 20" high from the base to the last Marine's head, 24" from the base to the top of his hand. The flag is 36" high, the base is 24" long, is made of wood and has a marble main base. One Eagle Globe & Anchor is set on the end of the base, with two brass plaques that commemorate the flag raising and the date. The lower portion of the casting has the artist's signature, please see our photographs. The statue has absolutely stunning detail of the servicemen as was captured by Joe Rosenthal, who took the epic picture of the second flag raising on top of Mount Suribachi, presenting a 360* view of the flag raising with details down to the wrinkles in the shirts!
Condition: The statue is in 'as new' condition with no reportable damages, please see our photographs.
Box, Paperwork & Accessories: The statue will be shipped in a 44 ½" tall, 36 ½" wide and 19 ¼" deep shipping container. The inside of the case will be filled with packing peanuts for protection. The crate has some minor chips missing but is in otherwise sound condition. The container and statue was too heavy for our scale, we estimate the total weight to be about 130 pounds; this lot will be shipped UPS Freight. A laminated copy of the Santa Clarita Valley Signal newspaper article which gives a full background of the creation of the statue, 8 ½" x 11" pictures of the original statue (the picture does not depict the statue that is up for auction, please see our photo set; the statue up for sale has a rectangular wood and marble base), with a back story and names of the heroes in the statue and un-laminated copy of the newspaper article are all included as photographed.
Assessment: This is one of 5 known copies to exist of one of the most visually stunning recreations of the Iwo Jima flag raising that has ever been made. The crisp detail, professional fit and finish and rarity should fascinate collectors of WWII artwork but is sure to appeal to veterans and the descendants of those brave souls who either fought in the Pacific theater or wars since. The statue was commissioned by a former Marine and is sure to please the most demanding of collectors. Please see our pictures, good luck and Semper Fidelis!