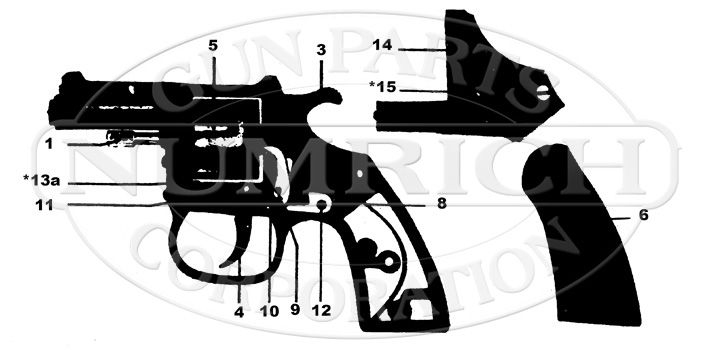 Serial Number 1 Clerke Double Action Revolver Consigned at LSB
Taking Stock #14
Ah, yes, behold the original Saturday Night Special! The occasion for Clerke Technicorp's existence was the 1968 Gun Control Act, which threw a wrench in importation of cheap German and Italian handguns.  That is, until the folks at Eig Cutlery adopted the name "Clerke Technicorp" and geared up for their own frame production stateside, with finished guns assembled from inexpensive German and Italian parts.
The result was a line of  handguns which could hardly be called lovely, but which tended towards affordable functionality.
Ah, who am I kidding?  Clerkes were the original "Saturday Night Specials", with indifferent manufacturing and inexpensive materials employed in their creation. Simply put, the Clerke was a cheaply made gun, with questionable engineering and construction.  The lockup was iffy, the sights were rudimentary, with the accuracy to match, and trigger pulls were atrocious. Would I shoot one? Probably not.  At best, the Clerke was operable in a roulette fashion; hardly a dependable firearm, but certainly, a potential weapon, that is, if a string is tied through the trigger guard, and it was used as a flail.  It would also double nicely as a fishing sinker, where the gold finish would undoubtedly attract lots of unsuspecting carp.
But now the fun begins…
A curiosity of American firearms history, they have slowly begun acquiring a certain cachet as collector's items!   So – here's the rest of the story.  This is a gun awarded to the plant manager, Thomas Lamar, and bears his initials, as well as serial number 1. The gold engraving is complete; as ceremonial award guns are seldom employed, this one is in excellent condition; heck it doesn't even have a firing pin in place!  (Whether this was by design or oversight is difficult to determine at this late date…)
But if I were a collector of firearms curiosities, this one would hold a place of special interest! The consignor, Mr. Lamar told the story of how this company (under his oversight) went from producing about 5 guns a day to producing 5 guns per hour, per employee. Most of these employees were women.  That may be reflected in the fact that this pistol is a bit
better to look at than to shoot.
Still, it is a sparkly, blingy little gun, and whether employed as death-dealing Saturday Night Special, desktop conversation starter, fishing lure, or paperweight, this is one interesting pistol, and it can only be purchased here at Lock, Stock, & Barrel!
By Mark Romano