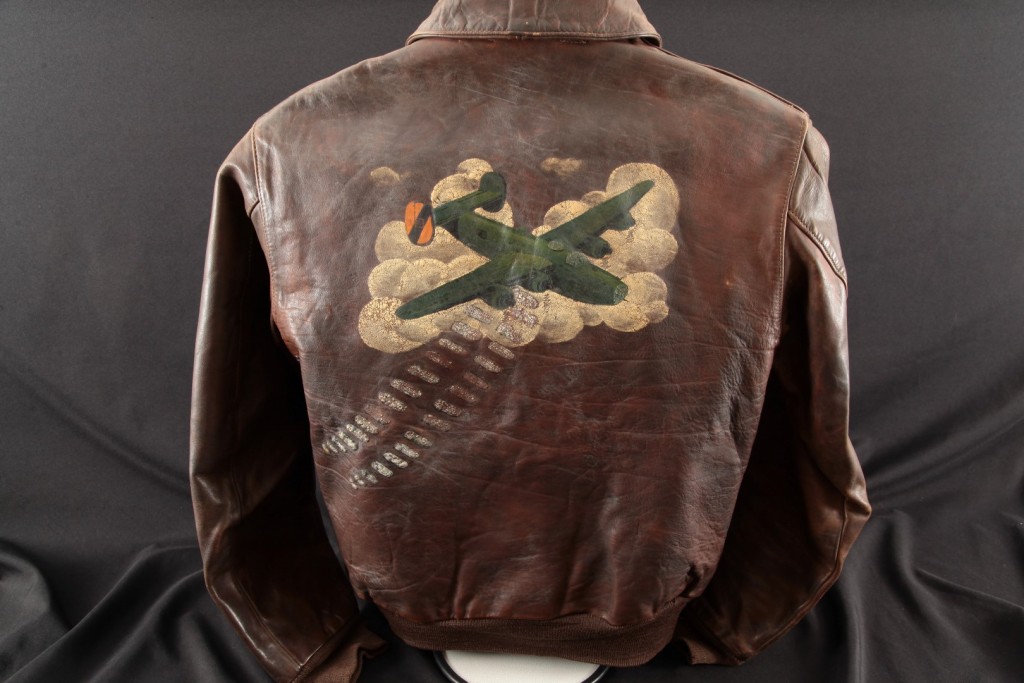 Elden Farrar – Wast Gunner B24 714th Bomb Squadron, Painted A2
This jacket is from a waist gunner with the 448th Bomb group, 714th Bomb Squadron, 8th Army Air Force. This was a B-24 group and Sgt. Elden Farrar was a member of the crew for Bim-Bam-Bola, B-24H-15-FO s/n 42-94735.
Sgt. Farrar's jacket was painted by fellow crew-member and good friend, waist gunner Sgt. Ray Waters.
Bim-Bam-Bola lost July 12, 1944; Sgt. Farrar's crew was in rotation at this time. Little else is known about the gunner or his B-24. Farrar's widow pulled this jacket from a bag in her basement 20+ years ago and the wreckage of the bomber was found in the Swiss Alps in July of 2002.
Geneology: http://www.genealogy.com/ftm/n/e/l/Valerie-F-Nelson/GENE1-0021.html
ELDEN F FARRAR ( was born 21 Aug 1923 in Dexter, Penobscot, Maine and died 27 Feb 1986 in Portland, Cumberland, Maine)
He married LUCILLE TARASEWICZ (28 May 1955)
Elden was in the Army Air Corps in WWII.He was a gunner. He worked for Dexter Shoe Company.
In 1955 Elden married Lucille Tarasewicz Raymond and gave us three new cousins.
Cause of Death: Heart Attack
Bim-Bam Bola Found Crashed in Switzerland in 2002: http://swissinternees.tripod.com/aircraft.html