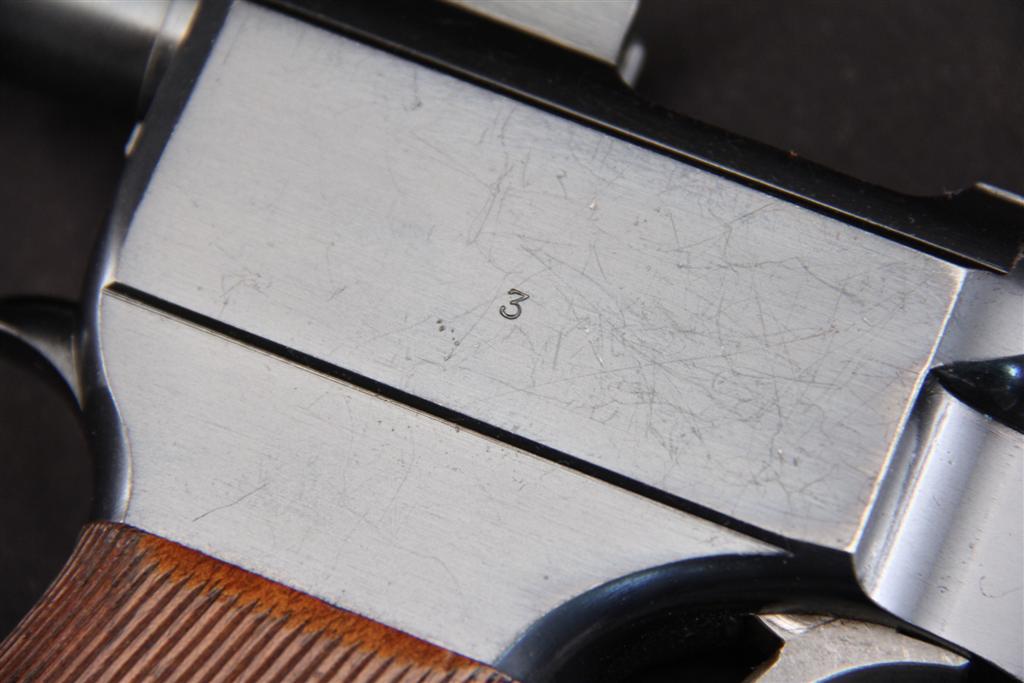 Austrian Cavalry Roth Steyr Model 1907 – SERIAL NUMBER 3
Like most of the employees here at Lock Stock and Barrel Investments, I'm a Gun Guy.  The mechanical elements intrigue me, the different designs and features interest me, and the bewildering array of innovations and solutions delight me.  That's one of the reasons that I enjoy working here!  Well, once in a while, along comes a firearm that rises above the rest.  To wit;I am holding in my hand an artifact of the once-proud Austro-Hungarian Empire, and a historically significant pistol; the Roth-Steyr Krnka M-1907  Österreichische Repetierpistole M.7, 8mm Roth-Steyr Cavalry Pistol.
Wow.  What a mouthwatering pistol this is; an instant shop favorite!  While Luger, Colt, Browning, and Beretta were still developing modern weaponry, this pistol has the distinction of being the first semi-automatic pistol ever adopted by any major world power!  It was designed to suit the needs of the horse-mounted cavalry, still considered viable at the time.  It features a prominent lanyard ring on the butt, feeds from a stripper clip, so magazines can't be lost, rendering the pistol inoperable, and deliberately using a long trigger pull to prevent premature accidental discharges by the Emperor's charger-mounted finest.
Designed by Czech designer Karel Krnka, to meet the specifications laid down by ammunition manufacturer Georg Roth, and built by Steyr, The Model 1907 is one unique and intriguing pistol.  It bears the design elements of the era; there was no orthodoxy in handgun design, and every gun designer in the world was pretty much creating as they went, swinging in the dark.  There are several innovative design features; it is a double action semi-auto, it is striker fired, and it feeds from a magazine in the pistol grip.  It is ergonomically sound, points naturally and comfortably, and robust enough that it served from before World War One and well into World War II.  Modern shooters have discovered that it is accurate and even reasonably reliable when fed quality ammunition.
The assembly was by hand, and the attention to detail, delicious.  Let your eye wander over the elegant little backstrap flare, or over the hand-knurled cocking handle.  There is so much hand-fitting evident, that it could bring a tear to the eye; this thing is manufactured with a level of craftsmanship that simply may no longer exist in the world today.
Then, there's the fact that this is Serial # 3.  That's right; #3.  About 99,000 of these pistols were built between 1907-1914, most of them earmarked for the Austrian Army and Cavalry. With the looming spectre of World War I on the horizon, only a very few hundred were destined to reach the civilian market. Few of these lovely pistols still exist, and almost none of them will ever be in this condition, let alone from this date and serial number range.
To find a pistol of this quality, and in this condition, is simply amazing.  What a find; what an addition to any Service Pistol Collection.  Remember; this is the first service pistol ever adopted – you simply have to see this pistol.
But you may never see another one of this quality again.  Rare, beautiful, and in exemplary condition, the Roth-Steyr 1907 rests here, only one of the many fascinating firearms you can buy at auction from Lock Stock & Barrel Investments.
By: Mark Romano