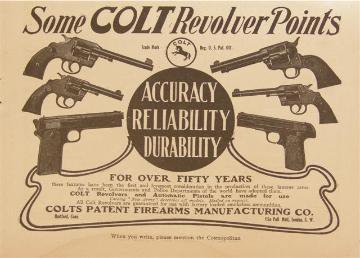 Why Folks Do Business with Lock Stock and Barrel Investments
Taking Stock #10
We sell guns.  Really, I could quit there, but there a couple of other companies that auction firearms as well.  Some folks might think that we should keep that info under our collective hat, but the truth is, we invite comparison.  If you're a buyer, you know what we offer; the most complete and descriptive write-ups in the firearms industry.  Our writers are seasoned firearms professionals – we even have a Ph.D. on staff!  The photographs are highly detailed, and there are a ton of them.  You will know what you are getting, and you will be happy with what you get!
Or we will make it right – GUARANTEED!
If you're a seller, you can count on this; the best payouts in the industry.  We have the world record highest price paid for several firearms.  We have handled guns from the mundane to the exotic; Emmett Dalton's S&W First Model Double Action, A Union Switch & Signal 1911 A-1 which flew on the Famous Liberty Belle, and a $30,000.00 1860 Henry Lever Action Rifle.  I'm looking at a Walther PPK (1960's production) that is currently bid above $1,500.00!  That's going to make a happy consignor, and the bidder is getting a German manufactured gun that will only increase in value as time goes by. We guarantee sales, guarantee payment and guarantee our customers satisfaction.
Our process is easy, it's trustworthy, and it provides a valuable service to both the seller and buyer.  When you call or come by, one of our staff will walk you through the process (it's simple!) and basically, you bring in the firearm, and we take it from there.   You can sit back and collect your money, while viewing the process via the internet the entire way.  You'll always know where you stand!
The internet offers options that simply don't exist elsewhere.  If you're a buyer, you are not limited to whatever is on the shelf that day; we turn over at least 100 guns a week.  As a seller, you have the security of knowing, not only can you track the sale, but you are reaching out to millions of potential purchasers, not the few dozen that come through a local gun shop.
We also invite comparison with the larger auction houses. Our auctions run for a full 14 days, visible 24/7 to the entire world – when they put an item on the auction block, it is only available for bids for literally between 30 seconds and 2 minutes and if you are in the bathroom while this is happening, too bad. You will also see one picture of the item you are bidding on (maybe), with us you will see between about 20 and 150 – on every item, of any value. We also keep in touch with weekly emails to all of our customers, past and present, over 3,000 right now. We regularly beat the prices they attain, and we promise what we are a lot easier to deal with than them. If you'd like specific examples and stories – WE HAVE THEM…
It's easy, and it's a guaranteed m
oney-maker.  Here are a few of the comments happy buyers and consignors have made about us:
Positive Feedback from Gunauction.com (formerly, Auction Arms).
04/09/2012: These Gents (and one Lady) are one outstanding group of folks to deal with! I got the shotgun of my dreams thanks to them. AAAAAAA++++++ all the way.
04/08/2012: Great communication. Gun was exactly as shown on the auction and in great shape. Very quick turnaround. Highly recommend this seller.
03/31/2012: Excellent rifle. Better than described. Communication and shipping handled very professionally. Highly recommend this seller. Very happy with purchases. Thank you.
03/26/2012: The guys at Lock, Stock & Barrel are the best. I actually thought I had a problem with this most recent purchase. I contacted them and they got right back to me. Turned out there was no problem at all, but I sure did appreciate the quick positive response. I highly recommend them.
03/23/2012: My second excellent deal with these fine people. Outstanding customer service. Total confidence in Lock, Stock, and Barrel. None better.
03/02/2012:  I have to thank Lock-Stock-and-Barrel for their patience in the purchasing this 1903 rifle. At the time I was inAfghanistanand really wanted this rifle, so coordinating through the home, sending a check and communiqués to Spencer at LS&B worked out in the end. Thank you very much!!! Many Regards!
02/26/2012:  Have bought over 25 guns for my private collection from this seller almost exclusively. Every transaction is a smooth process. They are always professional and very accommodating. Each firearm is exactly as described. I will continue to purchase & recommend Lock, Stock & Barrel to all my friends.
01/07/2012: This was the first time I was a successful bidder for an auction. The instructions were very easy to follow, my rifle was as it was described and this was very easy to do. Very nice people to do business with and would do so again. Very smooth transfer. Thank you.
Typical Feedback from Gunbroker.com:
04/01/2012:  Shotgun excellent as described and more. The best part of this transaction was the AWESOME communication by the guys at Lock, Stock and Barrel, who got me the gun in record time!!!  Fantastic!!!!!!!
01/23/2012:  Great product; L,S, & B is a great shop to deal with. Item matched description, and was obviously handled with great attention to care and customer satisfaction.
12/11/2011: This superb rifle is as described plus much more. It was carefully packed and shipped without delay. Don't hesitate to buy from this seller.
12/06/2011: These guys Rock, Californios are grateful for having these guys here locally. Always looking for there listings Thanks!
10/09/2011: Great people to deal with. I will be checking out their auctions regularly. They were totally accommodating in helping me deal with an obscure gun law.
By: Mark Romano