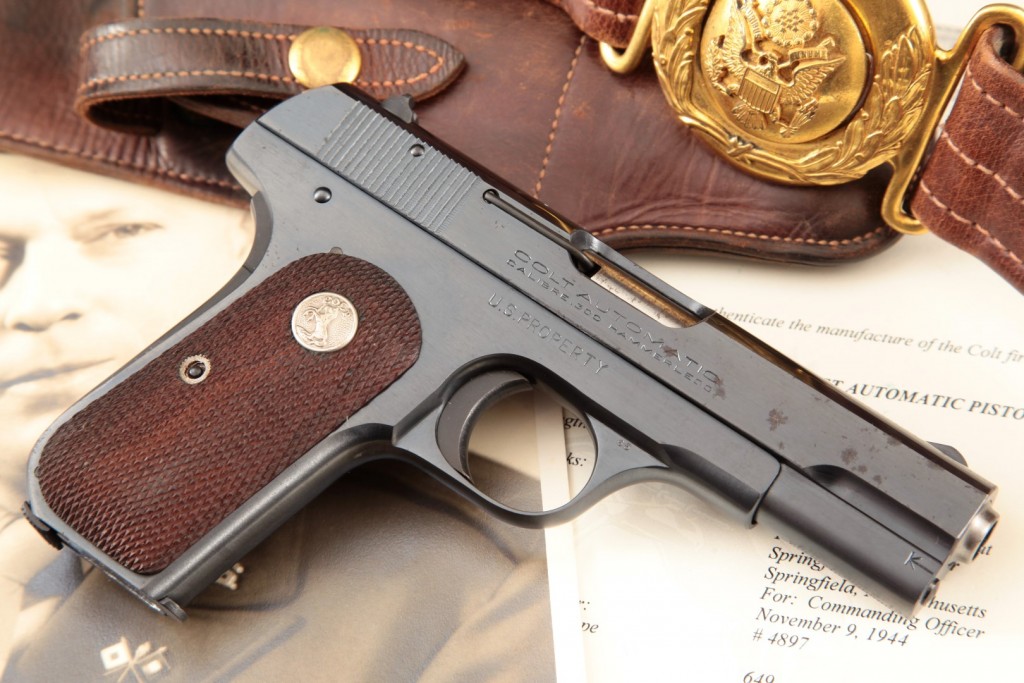 Colt Model 1908 .380 Auto General Officer's Pistol, Issued to Brigadier General Terrence John Tully
General Terrence John Tully: 
Terence John Tully, whom we all knew as Terry, was born 12 January 1900, in Old Point Comfort, Virginia. His paternal ancestors came to the United States from Ireland in 1860. His father, Charles F. Tully, was born in Philadelphia, Pennsylvania, enlisted in the United States Army at the early age of fifteen, as a bugler at Fort Assiniboine, Montana Territory; pursued an Army musical career, being leader of the Army Band at Fortress Monroe, Virginia, when Terry was born; and retired in 1918 as leader of the 8th United States Infantry Band, after thirty years' service. Subsequently, he was professor of Music at the New York Military Academy, Cornwall, New York, from 1926 to 1936. Terry's mother was Annie L. Kennedy Tully, who was bom in Ireland, and emigrated to the United States with her parents in 1876.
Terry's pre-Military Academy schools were somewhat governed by his father's duty stations, and were the West Queen Anne Grade School in Seattle, Washington, and the Gonzaga High School in Spokane, Washington. The military environment of Terry's early life inspired him to prepare for competitive examination for the Military Academy at Columbian Preparatory School (Schads) in Washington, DC, and he won an appointment to the Academy, entering 14 June 1918 as a member of the class that became the Class of 1920.
The Army atmosphere in which Terry grew up had a deep-seated influence on Terry, and on his thinking and actions; his interest was in the Army, and his objective was to be an Army officer. That outlook, along with serious application to academic studies and to the military subjects, and a natural jovial personality, stood him in good stead as a cadet—with his classmates, the tactical officers and the professors—and culminated in graduation on 15 June 1920.
In the process of enlarging the Regular Army after World War I, and assimilating officers with wartime service, Congress decreed that the Class of 1920 would be carried as graduated cadets with pay of second lieutenants through 1 July; accordingly, Terry, as were all of his classmates, was commissioned as a second lieutenant in the Infantry on 2 July 1920, and subsequently promoted to first lieutenant as of the same date. Conforming to the then policy, Terry's first duty assignment was as a student, Basic Course, The Infantry School, Fort Benning, Georgia. Following graduation in 1921, the next two years duty was at the National Rifle Matches at Camp Perry, Ohio, and at Fort Douglas, Utah, with the 21st, 53d, and 38th Infantry Regiments. From 1923 to 1926, Terry was assigned to the 31st Infantry in the Philippine Islands, and for the next four years he served with the 13th Infantry at Forts Andrews and Strong, Massachusetts, and Fort Adams, Rhode Island.
Starting with a detail in the Signal Corps at Fort Monmouth, New Jersey, in 1930, and attending The Signal School there, 1934-1935, Terry began a rewarding 24-year career as an officer of the United States Army Signal Corps. When World War II started, Terry, by then a lieutenant colonel, had been Signal Officer at Fort Lewis, Washington, Fort Leavenworth, Kansas, including attendance at The Command and General Staff School there, at Fort Sam Houston, Texas, and at Fort Benning, Georgia, where he was the Signal Officer for the 4th Infantry Division.
In May 1942 Colonel Tully became the Signal Officer of the II Army Corps, participating in the preparation for, and in the North African Landings, and the Tunisian Campaign, serving as Signal Officer in turn for Generals Fredendal), George Patton and Omar Bradley. After the conclusion of the Tunisian operation, Terry was assigned as Signal Officer, United States Services of Supply in North Africa at Oran, and then Deputy Chief Signal Officer, Allied Forces at Algiers.
He was promoted to brigadier general in February 1944, and became the Chief Signal Officer, American Forces, Mediterranean, and Deputy Chief Signal Officer, Allied Forces, Mediterranean.
Returning to the United States in September 1944, Terry became Chief of the Signal Corps Distribution Service in the Office of the Chief Signal Officer, Washington, D.C. In June 1945 he was assigned as Commanding General of the Signal Corps Training Center, Camp Crowder, Missouri. From March 1946 to November 1948, Terry commanded the Alaskan Communication System. For the next four years, Terry was involved in the establishment of the Communications System for the Supreme Headquarters, Allied Powers, Europe (SHAPE) of the North Atlantic Treaty Organization, with the titles of Acting Chief Signal Officer, SHAPE, and Chairman of the North Atlantic Treaty Organization Military Communications Committee, in Paris. In November 1952 Terry was given command of the Signal Corps Training Center, Fort Gordon, Georgia. He was the Commanding General of the Training Center and Fort Gordon until August 1954 when he was retired from active duty. His decorations included the Distinguished Service Medal, and the Legion of Merit of the United States; the Legion of Honor (grade of Chevalier), and the Croix de Guerre with Palm, of France; and the Commander of the Most Excellent Order of the British Empire.
For the two years following retirement from the Army, Terry was first Communications Advisor to the Hoover Commission, Washington, D.C., and then Chief Civil Defense Planner for the State of North Carolina, Raleigh. From 1957 to 1965 he was with Radio Corporation of America, first as Communications Engineer, Atlantic Missile Range, at Patrick Air Force Base, Florida, followed by Manager, Administrative Controls and Systems, Radio Corporation of America, at Cherry Hill, New Jersey.
Terry was active in the affairs of the Class of 1920. He was a member of the Class Governing Committee and was the architect of the Souvenir Programs for our 50th and 55th Reunions in 1970 and 1975.
During his station at Fort Douglas, Utah, in 1923, Margaret E. Cunter, of Salt Lake City, and Terry, were joined in holy matrimony. They had four children—Mary Anne, who died in 1924; Patricia Anne, now the wife of Dr. T. Crandall Alford, of Washington, D.C.; Margot Jean, who resides in Far Hills, New Jersey; and Terence J. Jr., who died in 1945. Margaret died in 1966, in Washington, D.C. In 1969, Josephine Baughman McLachlen and Terry were joined in marriage in Washington, D.C. Terry is survived by his widow, Jo; daughter Pat and her husband, Crandall; daughter Margot; a stepson, Archibald Malcolm McLachlen, Jr.; four grandchildren; two step-grandchildren; and one great-grandchild.
We of 1920 join his bereaved family and his host of friends in solemnly intoning:
"The march of another soldier is ended,
His battles are fought. His victories gained, And he lies down to rest awhile Awaiting the last bugle call."
—Charles Holle, Classmate
Promotions
| | |
| --- | --- |
| 1941-12-24 | Lieutenant-Colonel (Army of the United States) |
| 1942-06-24 | Colonel (Army of the United States) |
| 1943-07-02 | Lieutenant-Colonel |
| 1944-02-23 | Brigadier-General (Army of the United States) |
| 1946-02-14 | Termination of rank Brigadier-General (Army of the United States) |
| 1948-03-11 | Colonel |
Service
| | | | |
| --- | --- | --- | --- |
| 1940-06-21 | – | 1942-05-22 | Signal Officer, 4th Division |
| 1942-05-23 | – | 1943-05-XX | Signal Officer II Corps |
| 1943-05-XX | – | 1943-07-XX | Signal Officer, Services of Supply, North Africa Theater of Operations |
| 1943-07-XX | – | 1944-09-XX | Chief Signal Officer, Mediterranean Theater of Operations |
| 1944-10-XX | – | 1945-06-XX | Chief of Procurement & Distribution Division, Office of the Signal Officer |
| 1945-06-XX | – | 1945-11-XX | Commanding General Army Service Forces Training Center, Camp Crowder, Montana |
| 1945-12-XX | – | 1946-02-XX | Attached to the Office of the Chief Signal Officer |
| 1946-03-XX | – | 1946-06-XX | Member of the Joint Alaskan Survey Board |
| 1946-06-XX | – | 1948-10-14 | Commanding Officer Alaska Communication System |
| 1948-11-XX | – | 1949-11-XX | Deputy President of the Signal Corps Board |
| 1949-12-XX | – | | Signal Communication Adviser, Joint American Military Advisory Group to United Kingdom |
| 1954-XX-XX | | | Retired |