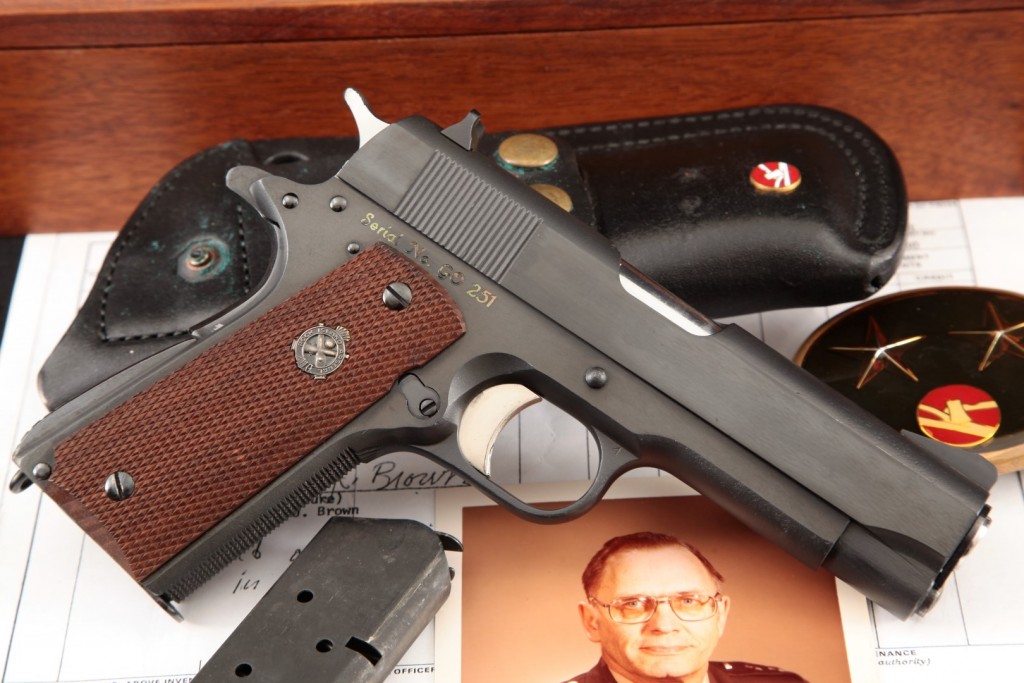 Rock Island Arsenal Model M15 General Officer's Pistol Issued to General Donald J. Brown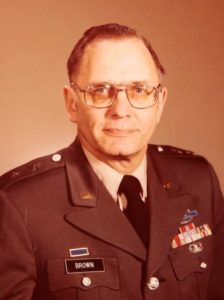 ____________________________________________________________________________________________
FOR SALE: $11,500
____________________________________________________________________________________________
Brown To Head Reserve MILWAUKEE –
The 84th Division, U.S. Army Reserve, headquartered in Milwaukee with units throughout the state including Kewaunee and Manitowoc, has a new commanding general. He is Brigadier General Donald J. , Brown, a veteran oli'icer-who ' has served more than 27 years with the division, most recently as assistant division commander. General Brown replaces Major General Herbert R. Hackbarth, who retired Tuesday after seven years as division commander. In civilian life, Brown is the business manager for the South Milwaukee school system. He began his military career in 1943, serving as an enlisted man until 1946 in the European Theater of Operations. In 1949 he received a direct commission and was assigned as a com- Eany commander in the 84th livision. He subsequently served as a battalion executive officer, battalion commander, division operations officer, brigade commander and chief of staff before being named assistant division commander in 1972. The retiring commander. Gen. Hackbarth. began his military career in 1941 as Corporal Hackbarth of the Artillery. Commissioned a second lieutenant the following year, he served in the regular armv through World Wat II. Returning to civilian life, Hackbarth joined a group of Reserve Officers in West Bend. For more than 26 years he has been with the 84th Division. General Hackbarth was named acting division commander in 1965 and he formally took command of the 84th as division commander in 1969. He is a personnel manager for the Chrysler Outboard Corp. in Hartford. .
____________________________________________________________________________________________
Six to be commissioned as second lieutenants –
Six men from the Fox Valley area will receive commissions as second lieutenants in the U.S. Army Friday at the University of Wisconsin-Osh-kosh. Ceremonies will begin at 10:30 a.m. in the UW-0 River Commons. Those being commissioned include Mark Godina, Fond du Lac, to report to the military police at Fort Gordon, Ga.; Ronald Allen, Neenah, transportation corps. Fort Eustis, Va.; Donald Johnson, Waupaca, armor corps, Fort Knox, Ky. Also, Oshkosh residents Arthur Leible, signal corps, Fort Gordon, Ga.; Paul Miller, adjutant general corps, Apple-ton National Guard Unit; and Warren J. Scoville, infantry, Eighth Infantry Division, Europe. Gold bars were presented to those commissioned by Major General Donald J. Brown, Milwaukee, commanding general of the 84th Division. He has been an Army Reserves officer for 30 years and has been the division commander since 1976. A World War II veteran, he is entitled to wear the Combat Infantry Badge, the Bronze Star, the Good Conduct Medal, the Presidential Unit Citation and the Armed Forces Reserve Medal. Brown is business manager of the South Milwaukee Public School System.
https://www.yumpu.com/en/document/read/17994058/fall-1977-digitized-resources-murphy-library-university-of-
____________________________________________________________________________________________