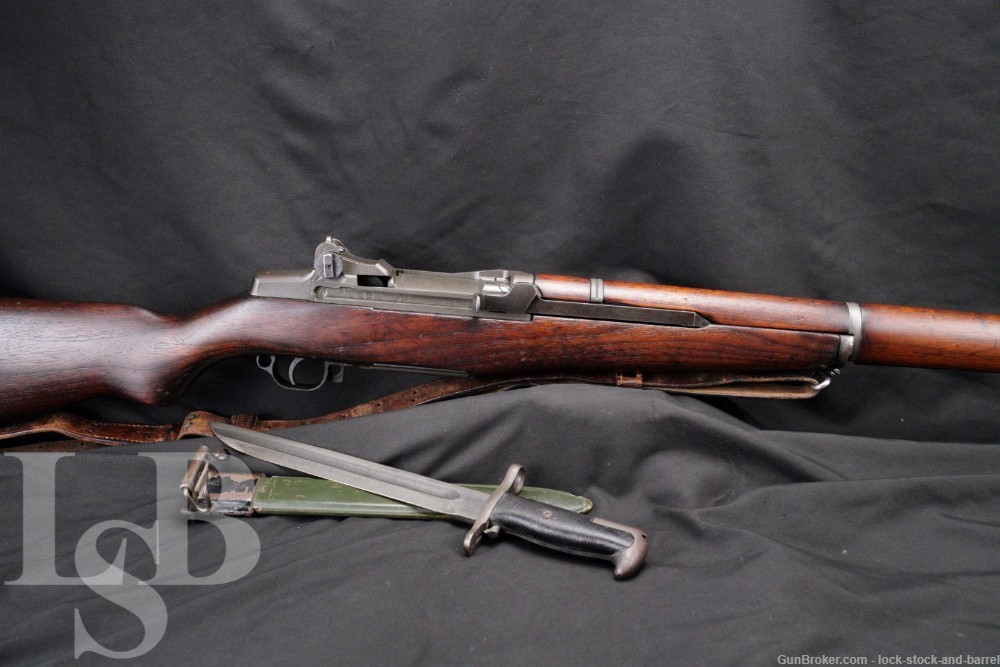 WWII Winchester M1 Garand US .30-06 Semi Automatic Rifle Bayonet U.S. C&R
SOLD FOR: $4125
LSB#: 230529MB001
Make: Winchester. The rifle uses all Winchester parts.
Model: M1 Garand
Serial Number: 104720
Year of Manufacture: December 1940. No Barrel Date
Caliber: .30-06 Springfield
Action Type: Semi Auto, En Bloc Clip Fed
Markings: There is no import mark.
Receiver: "U.S. RIFLE / CAL. .30 M1 / WINCHESTER / TRADE MARK / 104720"
Trigger Group: "D28290W.R.A."- A Winchester part (page 90 of Joe Poyer's M1 GARAND 1936 to 1957, 6th Edition).
Trigger Guard: "C46025 W.R.A."- A Winchester part (page 92).
Hammer: "C46008-1W.R.A." – A Winchester part (page 98).
Safety: "C46015-4 W.R.A." – A Winchester part (page 103).
Follower: an unmarked top hat follower – A Winchester part (page 83).
Receiver Leg: "D28291-2W.R.A." – Correct for the Winchester serial number (page 757 of Bruce Canfield's book, The M1 Garand Rifle).
Op Rod: "D35382-W.R.A."– A Winchester part (page 71).
Barrel: "PW in an oval" proof mark – A Winchester part (pages 63 – 65).
Bolt: "D28287-1W.R.A."– A Winchester part  (page 53).
The stock and sights are described below.
Barrel Length: Approximately 24 Inches
Sights / Optics: The front sight is a blade set between two protective wings. The rear sight is a fully adjustable aperture sight set between two protective wings.
Stock Configuration & Condition: The face of the grip is marked with a "circled P"proof. The left side of the stock, above the trigger, is marked with a Winchester inspectors stamp "W.R.A. / W.B." and a "crossed cannons" cartouche.
The hardwood stock has a pistol grip, metal nose caps, stacking loop, two sling loops, and a metal buttplate with hinged door for storage. The buttplate has oil residue on it. The wood shows several scrapes, scratches, and compression marks. It also shows several small areas of discoloration. The most prominent marks are on the bottom rear of the butt. The LOP measures 13 inches from the front of the trigger to the back of the buttplate. The stock rates in about Very Good overall condition.
Type of Finish: Parkerized
Finish Originality: Original to Rebuild
Bore Condition: The grooves are semi bright. The rifling is deep. There is fouling in the bore that should clean up some. There is erosion in the grooves. The bore shows an M.E. of 1.5. The throat shows a T.E. of 2.
In this writer's opinion, this bore rates 7.5 out of 10.
Many military and C&R eligible weapons have bores that will show erosion. This is not only due to age but to the fact that corrosive primers were commonly used in ammunition worldwide. For example, the U.S. used corrosive ammunition throughout WWII. The U.S. military did not begin to phase out corrosive-primed ammunition until the 1950s.
Overall Condition: This rifle retains about 93% of its metal finish. The gas tube has been refinished. It shows scrapes, scratches and light thinning. The metal shows other scuffs, small scrapes, and handling marks. The bottom rear of the receiver shows thinning and surface erosion. The underside of the op rod shows discoloration from both oxidation and oil residue. The action shows operational wear. Most of the markings are well defined. Some of the receiver markings are lightly struck. Overall, this rifle rates in about Very Good Plus condition.
Mechanics: The action functions correctly. We have not fired this rifle. As with all previously owned firearms, a thorough cleaning may be necessary to meet your maintenance standards.
Box, Paperwork & Accessories:  The rifle comes with a leather sling and an M1 bayonet & scabbard. The bayonet mounts the rifle but does have a small amount of back & forth play.
Our Assessment: The U.S. Rifle, Caliber .30, M1 is known affectionately as "the Garand" after its inventor, John Garand. The rifle would become the first standard-issue semi-automatic infantry rifle in the world. While some countries entered the war with limited issued semi-automatic rifles or developed such rifles during the war, America was the only nation to enter with its Army issuing autoloading rifles on a large scale. General Patton famously referred to the rifle as "the greatest battle implement ever devised". Millions were produced during WWII and hundreds of thousands afterward, seeing use through the Korean War and into the Vietnam War. Interestingly, while many other weapons and military items would see production contracts sent out to otherwise non-related companies, during WWII production remained with Springfield Armory and Winchester. It was only after WWII that production would be contracted out to another gunmaker, Harrington & Richardson, as well as the agricultural equipment maker, International Harvester.
This Winchester M1 Garand was originally made back in 1940. It has since been rebuilt but still uses all Winchester parts. This M1 Garand is in Very Good Plus condition with good markings and a good bore. The rifle comes with a leather sling and an M1 bayonet & scabbard.
…Now go shoot something!