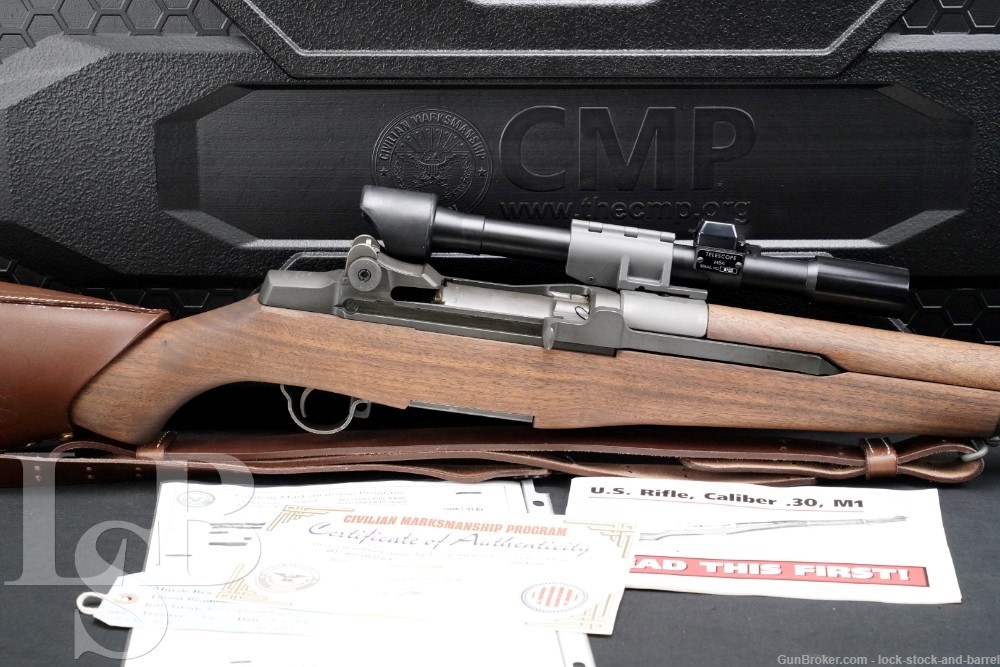 H&R M1 Garand CMP M1D Sniper M84 Scope Criterion Bbl Semi Auto Rifle C&R
SOLD FOR: $2925
LSB#: 230529MF007
Make: Harrington & Richardson (H&R) Arms Company.
Model: M1 Garand. This rifle was rebuilt by the Civilian Marksmanship Program (CMP) to mimic an M1D Garand Sniper.
Serial Number: 5565708
Year of Manufacture: 1954. Barrel Date: April 2021
Caliber: .30-06 Springfield
Action Type: Semi-Auto, En Bloc Clip Fed
Markings: There is no import mark.
Receiver: "U.S. RIFLE / CAL. .30 M1 / H. & R. ARMS CO. / 5565708"
Trigger Group: "D28290-12 SA"- A Springfield part (page 90 of Joe Poyer's M1 GARAND 1936 to 1957, 6th Edition).
Hammer: "SA D5546008"– A Springfield part (page 97).
Safety: unmarked with a round top – The marking may have been lost (page 104).
Follower: unmarked – An H&R part used by others (page 83).
Receiver Leg: "6528291" – Correct for a 1954 H&R M1 Garand (page 30).
Op Rod: "D35382 SA" – A Springfield part (page 71).
Bolt: "D28287 -12SA / W9B"- Springfield part (pages 51 & 52).
Barrel: "CBI 6535448 1-10 04/21 5U" – A new production Criterion barrel (April 2021) with a 1 in 10 twist rate.
The stock and sights are described below.
Barrel Length: Approximately 24 Inches
Sights / Optics: The front sight is a blade set between two protective wings. The rear sight is a fully adjustable aperture sight set between two protective wings.
The reproduction scope is attaches to the rifle with a reproduction two piece hinged mount. The mount has an included screw with an oversized head that mates with the base installed on the barrel.
The reproduction scope is an M84 2.2 power that uses a thin post reticle with horizontal line. The scope has a sliding sunshade on the front of the tube and a rubber eyepiece on the rear. It has two adjustment knobs under metal flip caps that turn. The scope is marked "TELESCOPE / M84 / SERIAL NO. 8723" on the side plate.  The scope assembly shows scuffs. The view is clear.
Stock Configuration & Condition: The left side of the stock, above the trigger, is marked with a Civilian Marksmanship Program (CMP) cartouche containing "CMP / eagle holding arrows".
The new production hardwood stock has a pistol grip, metal nose caps, a stacking loop, two sling loops and a metal buttplate with hinged door for storage in the butt. The wood shows light handling marks. The LOP measures 13 inches from the front of the trigger to the back of the buttplate. The stock rates in about Excellent overall condition.
Type of Finish: Parkerized
Finish Originality: Original to CMP Rebuild
Bore Condition: The bore is bright; semi bright at the muzzle. The rifling is sharp & deep. There is fouling in the bore which should clean up some. There is no erosion. The bore shows an M.E. of -1 (negative one). The throat shows a T.E. of 0.5.
In this writer's opinion, this bore rates 9.5 out of 10.
Many military and C&R-eligible weapons have bores that will show erosion. This is not only due to age but to the fact that corrosive primers were commonly used in ammunition worldwide. For example, the U.S. used corrosive ammunition throughout WWII. The U.S. military did not begin to phase out corrosive-primed ammunition until the 1950s.
Overall Condition: This rifle retains about 96% of its metal finish. The gas cylinder has been refinished in black paint. The metal shows scuffs and light handling marks. The bottom of the trigger group shows scrapes and light surface erosion. The action shows some light operational wear. The markings on the metal are deep. The stock markings are well defined. Overall, this rifle rates in about Fine condition.
Mechanics: The action functions correctly. We did not fire this rifle. As with all used firearms, a thorough cleaning may be necessary to meet your maintenance requirements.
Box, Paperwork & Accessories: The rifle has a reproduction M84 scope and mount installed. The stock has a leather cheek piece and a leather sling attached.
The rifle comes in Civilian Marksmanship Program (CMP) hard case, with a CMP Certificate of Authenticity, CMP owners manual, CMP invoice, CMP Armorer's tag, and information on the reproduction M84 scope. The certificate and invoice each have a typo in the serial number. They are off by 1 digit.
Our Assessment: The M1 Garand had garnered a well-deserved reputation as the best standardized service rifle of WWII. At the end of WWII large numbers of Garands were in inventory and it was assumed they were sufficient to meet future military needs. That all changed when the Korean War broke out. Springfield Armory ramped up its Garand production line as quickly as possible, but additional sources were needed. International Harvester was contracted to produce M1 Garands in 1951. On April 3, 1952, H&R was given a contract for the production of M1 Garand rifles.
H&R had produced a number of types of firearms for the civilian market, but H&R's prior experience in military firearm production for the government was primarily limited to the Reising .45 ACP submachine gun that it made during World War II. H&R was able to capitalize on its arms making experience during production and supplied International Harvester with assistance in producing M1 Garands. Unlike the mix of parts found on some IHC M1 Garands, there was typically much more consistency in the H&R rifles including the format of the receiver markings. Unlike IHC, H&R made its own barrels for most of the company's production run. When International Harvester opted out of its contact, a number of the Line Material Corp. (LMR) barrels on hand were diverted to H&R and used to assemble some late-production rifles. LMR barrels are considered high quality barrels.
This Harrington & Richardson M1 Garand was made back in 1954. It was eventually rebuilt by the Civilian Marksmanship Program (CMP) to mimic an M1D Garand Sniper. The rebuild included installing a Criterion barrel, mounting a reproduction M84 scope assembly, and dropping the action into a new production CMP stock. The rifle looks impressive, the scope is in great shape, and the bore is strong & bright. The rifle comes in a CMP hard case and with a CMP Certificate of Authenticity.
…Now go shoot something!