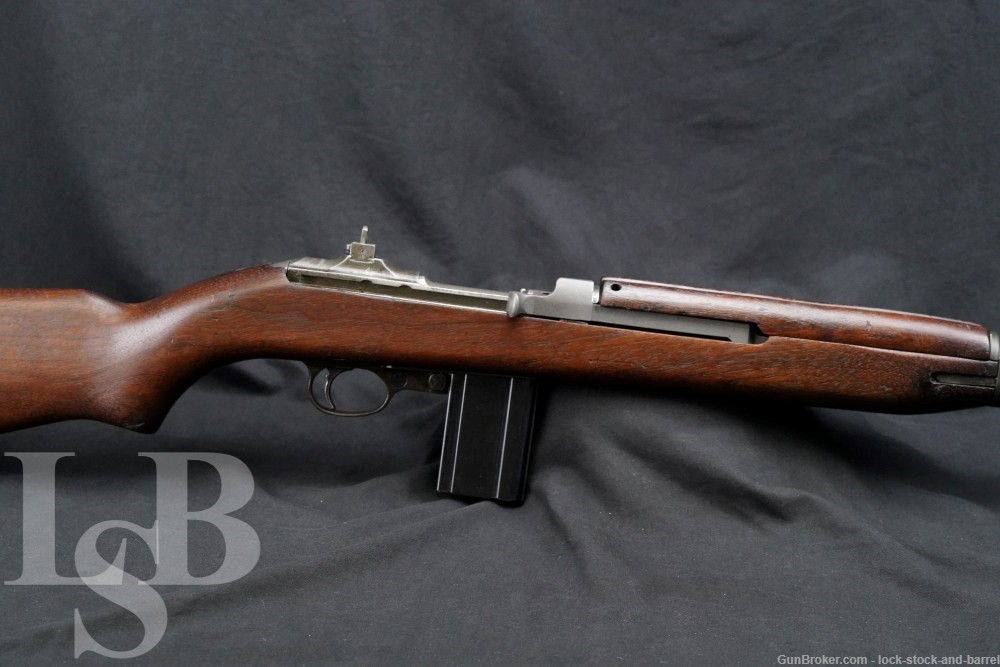 WWII Irwin-Pedersen M1 Carbine Saginaw S'G' .30 Rare US Semi Auto Rifle C&R
SOLD FOR: $4226
LSB#: 230405FT002
Make: Irwin-Pedersen. Grand Rapids, Michigan
Saginaw S'G' took over the Irwin-Pedersen facility in April of 1943 and produced M1 Carbines using Irwin-Pedersen and Saginaw S'G' parts.
Model: M1 Carbine
Serial Number: 3215713
Year of Manufacture: 1942 to 1944. No specific manufacture dates are listed due to a number of reasons explained on pages 24 to 26 of Scott Duff's book, The M1 Carbine Owner's Guide.
Barrel Date: October 1943
Caliber: .30 Carbine
Action Type: Semi Auto, Detachable Magazine
Markings: There is no visible import mark. The top front of the receiver is marked "U.S. CARBINE / CAL. .30 M1." and the top rear is marked "IRWIN-PEDERSON / 3215713". The left side of the receiver (under the wood) is marked "3" and has a tooling hole at the rear. Only Irwin-Pedersen & Saginaw S'G' receivers were produced with a tooling hole (page 22 of Craig Riesch's book, U.S. M1 Carbines Wartime Production 7th Edition). The top of the barrel is marked "UNDERWOOD / 10 – 43" and "P". Underwood supplied barrels for Irwin-Pedersen (page 50). The trigger group is marked "S'G'" on the right rear which was used by Irwin-Pedersen and Saginaw S'G' (page 78). The hammer is marked "IP" which is a Irwin-Pedersen mark (page 89). The magazine release is marked "HI" which is an Inland mark  (page 100-101). The smooth push button safety is unmarked which is consistent with other manufacturers (page 95). The operating slide is unmarked. The marking appears to have been lost to refinishing (page 65). The bolt is marked "S'G' " on the right lug which was used by Irwin-Pedersen and Saginaw S'G' (page 36). The front sight is marked  "N" which was used by Irwin-Pedersen and others (page 56). The Type I rear sight is marked with an "S" on the left, "B-IP" on the right which is Irwin-Pedersen mark, and "B-S'G' " on the front of the aperture which is a Saginaw S'G' mark (page 29). The Type IA barrel band is marked "KV S'G' " which is a Saginaw S'G' mark (page 59). The underside of the Type I handguard is unmarked which is consistent with Irwin-Pedersen and Winchester (page 138). The sling well is marked "IR" and with a "flaming bomb" which is a late war replacement mark from the Robert Irwin Company (not listed page 108 – 109). The face of the grip is marked with a " P" proof. The left side of the stock, at the rear of the receiver, is marked with an Augusta Arsenal Rebuild stamp "AAK". The magazine is marked "K-IP" which is an Irwin-Pedersen mark (page 142 -143).
Barrel Length: Approximately 18 Inches
Sights / Optics: The front sight is a bladed post set between 2 protective wings. The rear sight is a Type I dual flip up aperture.
Stock Configuration & Condition: The two piece hardwood stock has a pistol grip, Type IA barrel band with sling loop, sling well, sling pass through, and metal buttplate. The refinished buttplate has surface erosion and small dents showing through the new finish. The stock shows several scrapes, scratches, and compression marks. The stock also shows sanding marks. The wood has been oiled. The LOP measures 13 1/4 inches from the front of the trigger to the back of the buttplate. The stock rates in about Very Good Plus overall condition as refurbished.
Type of Finish: Parkerized
Finish Originality: Original Receiver. Refinished Parts.
Bore Condition: The muzzle and grooves are semi bright. The rifling is deep. There is erosion at the muzzle and light erosion in the grooves. The bore shows an M.E. of 2.2.
In this writer's opinion, this bore rates 7 out of 10.
Many military and C&R eligible weapons have bores that will show erosion. This is not only due to age but to the fact that corrosive primers were commonly used in ammunition worldwide. For example, the U.S. used corrosive ammunition throughout WWII. The U.S. military did not begin to phase out corrosive-primed ammunition until the 1950s.
Overall Condition: This rifle retains about 90% of its metal finish. Most of the metal shows scuffs and light scrapes. The front sight and the receiver show scrapes, scratches and thinning. The front sight also shows discoloration from oxidation. The action shows operational wear. Most of the markings are deep. The barrel markings are defined.  Overall, this rifle rates in about Very Good Plus condition as refinished.
Mechanics: The action functions correctly. We did not fire this rifle. As with all used firearms, a thorough cleaning may be necessary to meet your maintenance requirements.
Box, Paperwork & Accessories: The rifle comes with a 15 round magazine that appears to function correctly.
The 15 round magazine is not available to residents of California or any other state with magazine capacity restrictions.
Our Assessment: The M1 Carbine was developed and produced after WWII started. Over 6 million were made by a number of U.S. companies to assist with the all out war effort. The M1 Carbine was widely issued to U.S. Military Forces which numbered over 16 million during WWII. The M1 Carbine contributed greatly to U.S. efforts during WWII.
Irwin-Pederson M1 Carbines are RARE. Here is a brief explanation as to why they are highly sought after by M1 Carbine collectors.
Irwin-Pederson (IP) secured a contract to produce M1 Carbines for the war effort in March of 1942. Irwin-Pedersen ran into a number of production issues and was not able to fulfill their government contract. Saginaw S'G' took over the Irwin-Pedersen facility in April of 1943 and produced M1 Carbines using Irwin-Pedersen and Saginaw S'G' parts. Irwin-Pedersen had assembled only 3,542 guns at the time, none of which were accepted by the government. Any completed Irwin-Pederson rifles were most likely reassembled and reinspected by Saginaw S'G' after they took over the contract.
There are 2 separate Saginaw Gear manufacturers. Both were Divisions of General Motors but were located in different cities. Saginaw Carbines made in the original Saginaw, Michigan factory are marked "S.G." or "SG". Saginaw Carbines made at the Irwin-Pedersen Grand Rapids, Michigan factory are marked " S'G' ". Saginaw marked the Grand Rapids factory M1 Carbines S'G' to differentiate them from the ones produced at the original Saginaw plant.
This Irwin-Pedersen M1 Carbine was made during WWII. It has since been rebuilt but still retains many of its Irwin-Pedersen and Saginaw S'G' parts. The Underwood barrel is original. Irwin-Pedersen did not produce barrels. Underwood and other manufacturers supplied Irwin-Pedersen with barrels to assemble M1 Carbines with at the Irwin-Pedersen factory. This rare Irwin-Pedersen M1 Carbine is in Very Good Plus condition and will add nicely to a WWII or M1 Carbine collection.
…Now go shoot something!