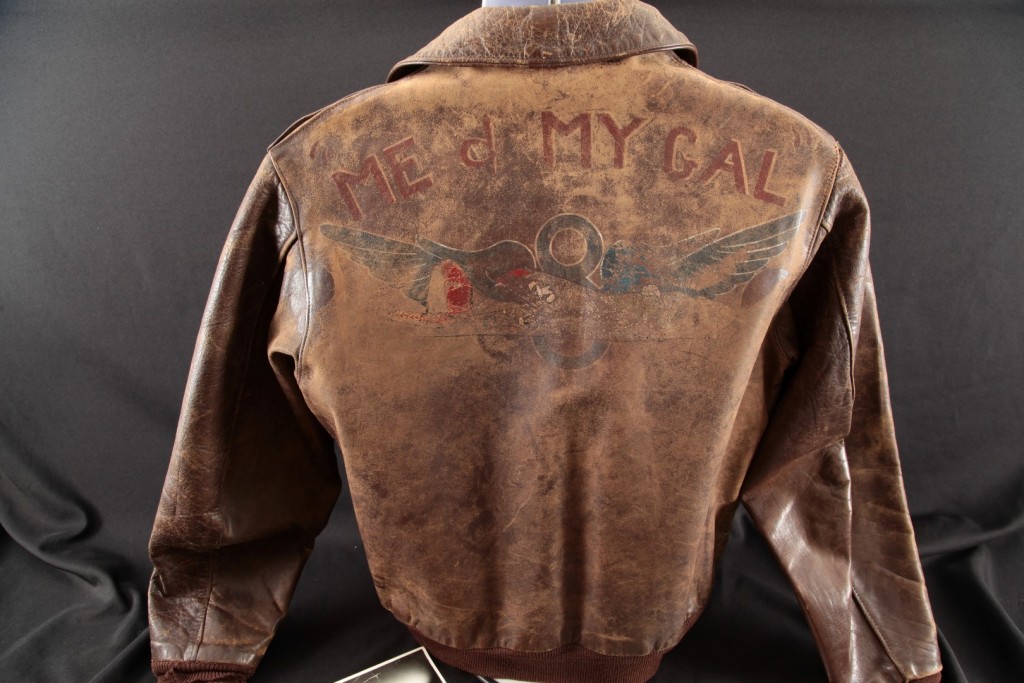 535th Bomb Squadron Painted A2: Me & My Gal
Brown steer or horsehide A2 has original brown cotton lining with AAF woven label listing only the contract number "535-AC-27753", but thanks to Gary Eastman's outstanding new reference, we know that this contract was from April 29, 1942 for 50,000 A2's from Boston's Cable Raincoat Co. Flight jacket has good brown knit waistband with typical heavily worn cuffs. Leather is scuffed from service but remains in excellent pliable condition and has never been subjected to any damaging 'preservative' treatments. Zipper is broken about just a bit further than the halfway point.
Left chest has had the name tag removed as is so often the case, but does retain a nice large 15cm diameter chenille 535th Bombardment Squadron insignia. Reverse has blocked letter title "ME & MY GAL" over blue winged "8" with B-17 flying in front of this insignia. The paint on the B-17 is quite worn, with perhaps 30% remaining, but the design remains quite visible. A bit of web research reveals that this 535th Bomb Squadron B-17 was number 42-40017, flown mostly by the 535th, but loaned to other squadrons in the 381st Bomb Group on a few occasions to make up for other missing aircraft. The aircraft was twice salvaged, and renamed "Miasses Dragon" and "Assend".
One of Me & My Gal's close brushes with eternity was recorded in the war diary of the 381st Bomb Group on 30 May 1944: (photo caption) "Lt Yates in "Me and My Gal", which came home burned out in the nose compartment and cockpit after undergoing fighter attack with its same crew recently, maneuvered his ship nearly 20 minutes today so successfully that an out-piloted pack of ME109's failed in their attempt to knock down a sure thing." Account: "The group's target was Dessau, where 50 fighters hit the bombers just after the bomb run. After bombs smashed down on the tank engine plant objective, gunners were hard pressed by the first wave of enemy fighters, which ultimately got three of our ships. Yates was knocked out of position when fighters killed one of his engines in the first attack. He stayed out nearly half an hour, diving, zooming, twisting and rolling his ship to evade attackers and set up his gunners for shots, while the latter did the sort of firing that led them to claim three (evaluated: Vanderzee, one destroyed, Reno, one probable). Escort picked them up in the nick of time, for a second engine went out near the end of the running fight. "Me and My Gal" came home all alone, far behind the formation, on only two, with her crew singing Lt Yates' praise. Yates and S/Sgt Vanderzee, toggler today, who rode co-pilot after Lt Klutho, with S/Sgt Dixon, top turret, bailed out in the heat of the first fighter attack, have been recommended for the Silver Star. Part of Vanderzee's citation will refer to his actions on a recent mission, when he saved the navigator's life indirectly, and indirectly was largely responsible for the safe return of "Me and My Gal" after 20mm shells from attacking Nazi fighters started a heavy fire in the ship's nose compartment." The missing aircrew reports for Lt. Klutho and S/Sgt. Dixon include more information about that harrowing fight.
This jacket belonged to S/Sgt. Peter A. Haramzian, who was assigned to the squadron on the 14th of July, 1944. His group includes an extra 535th Bombardment Squadron chenille patch, a photograph of his crew (likely taken during the later stages of training, dated "May 1944"), and snapshots including the nose art of "In Like Errol", several B-17 interior shots, several of B-17's on the ground, and several of B-17's flying formation. Also includes a great shot of S/Sgt. Haramzian wearing this jacket with the squadron insignia clearly visible. Paperwork includes a worn listing of all 35 missions completed by S/Sgt. Haramzian, starting 29 July 1944 with Merseberg and ending 31 December 1944 with Pruem. Also included is his shipping ticket listing the issued material that he was returning to the Army, with his A-2 flight jacket X-d out (as he was keeping it!)
The 381st Bomb Group, of which the 535th was a component, flew their first mission on June 22, 1943. They suffered devastating losses on the infamous August 17 Schweinfurt mission, and flew the second strike on that target on October 14. They earned the Presidential Unit Citation for the Oschersleben strike on January 11, 1944. During the week of the Normandy Invasion, the 381st flew 9 consecutive missions in 7 days. After their final mission on April 21, 1945, the 381st was credited with 297 combat operations, including 20 trips to Berlin. They dropped over 22,000 tons of bombs on the Third Reich, and were credited with 223 enemy aircraft destroyed.
MISSION REPORT & Shipping Ticket Listing A2… 
Photos Wearing Jacket:
The Jacket: