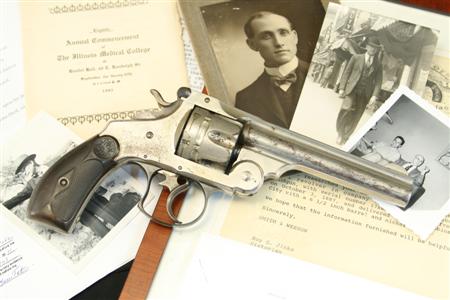 Emmett Dalton's Smith & Wesson S&W Double Action First Model .44 Russian
Make: Smith & Wesson
Model: Double Action First Model, Top Break
Year of Manufacture: 1887
Caliber: .44 S&W Russian
Finish Originality: Factory Original
Finish Condition: There is wear and freckling present on the nickel finish, with a bit of holster wear at the muzzle.  The freckling in the finish is consistent with handling wear, and is with the wear on the grips. The gun is in surprisingly better condition for a used gun of this vintage.
Our Assessment: This is a nice, functional, Smith & Wesson First Model Double Action revolver, in a historically correct caliber.  And now, the fun begins!  This revolver has been factory lettered by Roy G. Jinks, the premiere historian of Smith & Wesson firearms, which will be included to the purchaser as to the date of manufacture and configuration of the gun.  Additionally, the lucky bidder will receive several documents, photographs, and other elements of provenance which trace this revolver to Emmett Dalton, youngest of the infamous Dalton Gang.  In his outlaw career, Emmett suffered TWENTY-THREE gunshot wounds, so the subsequent owner of the firearm being a doctor, who received the gun in payment for services, is not difficult to accept.  The period of the firearm is correct, the location of Emmett Dalton is historically correct, and given the weight of evidence, it would be very hard to argue that this was NOT the sidearm of notorious outlaw Emmett Dalton of the Dalton Gang!
Here is the line of succession of evidence:  Tillman H. McLaughlin, MD, received the S&W #17887 from Emmett Dalton, who was a patient of his at the time.  Marylyn Deal received the revolver from her husband, Merrill Deal, who had received the gun from his mother, Lucille McLaughlin-Deal, who was Tillman McLaughlin's daughter.  All of this is contained in included documentation signed and notarized by Marilyn Deal. An original commencement program from medical school, listing Dr. McLaughlin, a copy of his original business card, three photographs of Dr. McLaughlin and associated family documentation (all photographed).
Sold For: $15,725