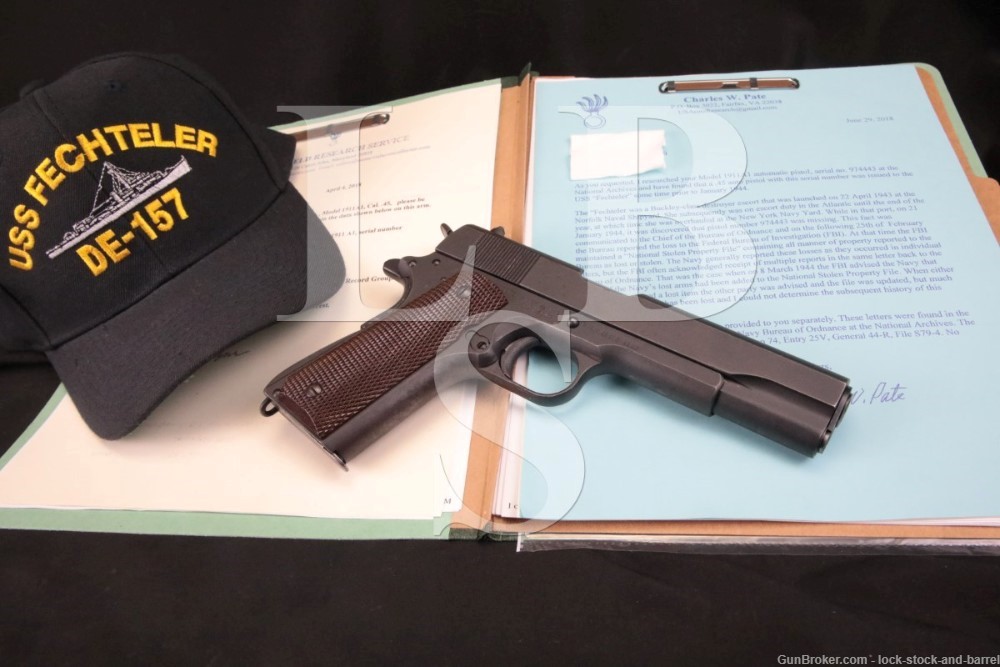 Documented USS Fechteler Remington Rand M1911A1 Semi-Auto Pistol, 1943 C&R WWII US U.S. Navy DE-157 Du-Lite 1911-A1 .45 ACP
Sold for $3315.00
The 1911 and 1911-A1 pistols served the military of the United States from 1911 to 1985, through two World Wars and the Korean and Vietnam wars. They gained a reputation as a reliable handgun with plenty of stopping power, and are held in high regard by those who have used them. As was the case at the outset of the 1st World War, demands of the US Military would outstrip the production capacity of Colt when the United States entered World War 2. In this case, contracting pistol production out to other companies had been planned for and simplified due to educational orders and a production study, notably conducted by the Singer sewing machine company, which developed comprehensive plans and instructions for a company which had never made a 1911A1 to order materials, machinery and set up manufacturing for the pistol. Remington Rand was the star example of this project's success, and by the end of the war would go on to produce just about as many as all of the other maker's combined, at the lowest price and highest quality.
This example was made by Remington Rand in 1943, fairly early in their production. It has an interesting mix of features including the early Du-Lite finish, first-style serial marking and second-style slide marking. The barrel's markings indicate that it was made by Springfield Armory as part of a program of stocking replacement barrels, but these stocks were also sent to the contract manufacturers as production increased for new-made pistols. The pistol also has a nice set of early Keyes Fibre grips. By itself it is a wonderful example of an early Remington Rand 1911-A1. It is also a particularly well documented example.
While originally shipped to Springfield Armory in 1943, sometime prior to January 21, 1944, this pistol was issued to the USS Fechteler, Buckley-class destroyer escort which had been launched in April, 1943. The ship's early service consisted of convoy duty from New York to the Netherlands West Indies and on to North Africa. It is possible that this pistol was "lost" during one of these convoys, but it seems more likely that it made its way back to America and left the ship while in port at New York City for an overhaul. The Fechteler would go on to participate in experimental anti-submarine exercises and further convoy duties before leaving for Bizerte. On return from Bizerte, escorting another convoy, the Fechteler was sunk by a German U-boat in the Western Mediterranean on May 5, 1944.
This pistol is accompanied by documentation from the Springfield Research Services, Charles W. Pate, as well as declassified copies of the reports of the sinking of the USS Fechteler. This additional documentation will only enhance the collector value of this high condition Remington Rand 1911A1.