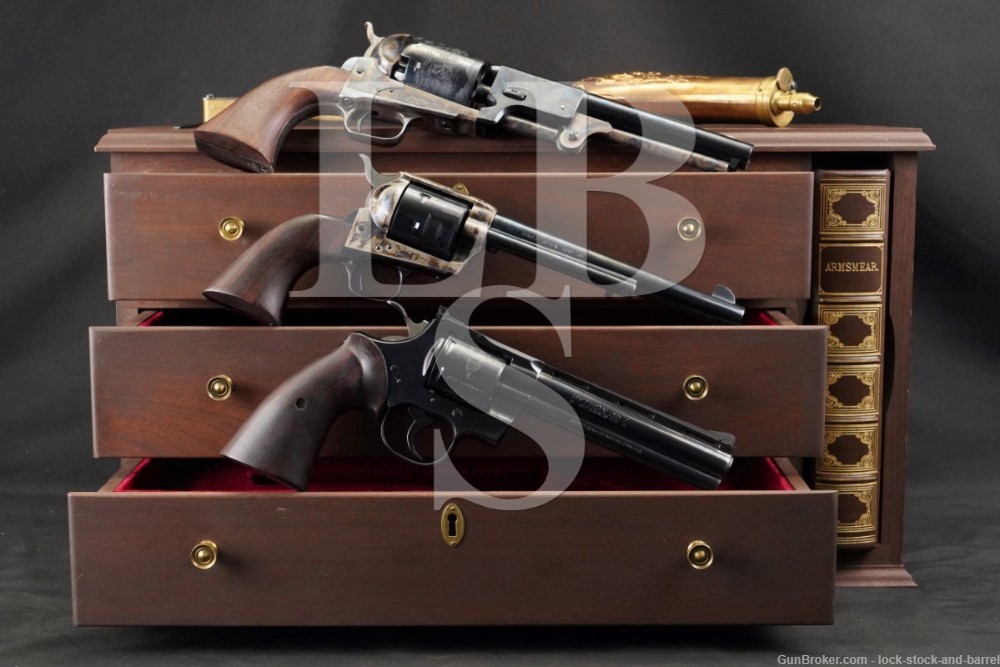 Colt USA American Bicentennial Set Dragoon SAA Python & Case, 1976 ATF C&R
Sold for $7363.45
This may be the most important set for Colt collectors produced. The set encompasses the three quintessential firearms from three generations of Colt revolvers. The Dragoon was designed as a solution to numerous problems encountered with the Walker Colt. Although it was introduced after the Mexican-American War, it became popular among civilians during the 1850s and 1860s, and was also used during the American Civil War. It was the first of the heavy hitting revolvers that became practical for military use. The Colt Single Action Army represents not only a generation of Colt Production, but an Era of American History. The Colt helped tame the West and the 7 1/2" .45 LC SAA is a gun that elicits feelings of the Old West upon sight. The Python was the next generation. This gun shows the finest of Colt's Modern Double Action Revolver design and manufacturing. The Colt Python is desirable. It was first introduced in 1955, the same year as Smith & Wesson's M29 .44 Magnum. The Colt Python targeted the premium revolver market segment. Some firearm collectors and writers such as Jeff Cooper, Ian V. Hogg, Chuck Hawks, Leroy Thompson, Renee Smeets and Martin Dougherty have described the Python as the finest production revolver ever made.
This set commemorates not only Colt's production but the free country that allows the existence of firearms manufacturing and private ownership. It was only befitting to produce a set in the finest of quality and of the finest revolvers to celebrate the 200th Anniversary of the United States.
This set is rare and in great condition apart from a missing medallion on the Python's grip. It would be difficult to improve on and is what every Colt collector desires.