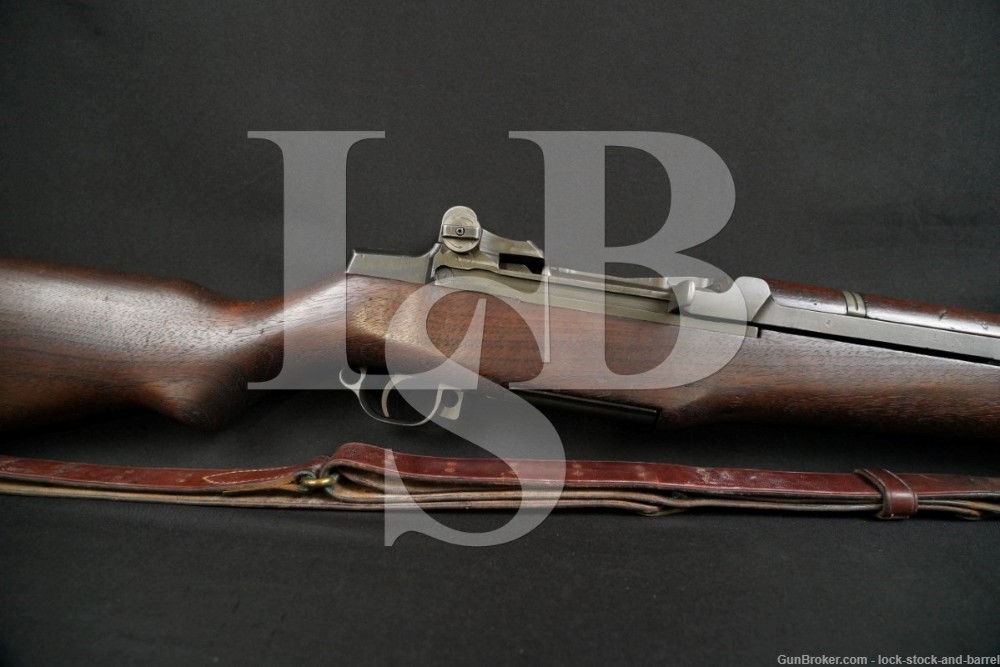 WWII Winchester M1 Garand England U.S. .30-06 Semi Automatic Rifle C&R
SOLD FOR: $3635
LSB#: 220209FH014
Make: Winchester. The rifle's action uses all Winchester parts.
Model: M1 Garand.
This rifle is marked with a British export mark. It served for an Allied country during or after WWII.
Serial Number: 142465
Year of Manufacture: January, 1942 (page 186 of Joe Poyer's M1 GARAND 1936 to 1957, 6th Edition).
No Barrel Date
Caliber: .30-06 Springfield
Action Type: Semi Auto, En Bloc Clip Fed
Markings: There is no import mark. The British export mark on top of the barrel reads "30/06 2.49 18 TONS". It is stamped next to a Nitro Proof from the London Proof House "arm holding a sword / NP".
Receiver: "U.S. RIFLE / CAL. .30 M1 / WINCHESTER / TRADE MARK / 142465"
Trigger Group: "D28290W.R.A." and "CM" – A Winchester part (page 90 of Joe Poyer's M1 GARAND 1936 to 1957, 6th Edition).
Trigger Guard: "C46025 W.R.A." – A Winchester part (page 92)
Hammer: "C46008-1 W.R.A." – A Winchester part (page 98).
Safety: "W.R.A.-1" (partially visible on the lower left side)  – A Winchester  part (page 103).
Follower: unmarked "top hat follower" – A Winchester part (page 83).
Receiver Leg: "D 28291-2W.R.A." –Correct for the Winchester serial number (page 757 of Bruce Canfield's book, The M1 Garand Rifle).
Op Rod: "D35382-W.R.A." – A Winchester part (page 71).
Barrel: "6", "C U" and with a Winchester "PW in an oval" proof – A Winchester part (pages 61-63). The bottom of the barrel is marked with a previous owner's name in electric pencil.
Bolt: "D28287-1 W.R.A." – A Winchester  part (page 53).
The stock and sights are described below.
Barrel Length: Approximately 24 Inches
Sights / Optics: The front sight is a blade set between two protective wings. The rear sight is a fully adjustable aperture sight set between two protective wings. The windage knob is marked "LEFT arrow" twice. The elevation knob is marked from "2-12" in increments of 2 and "UP arrow DOWN arrow / BATTLE triangle RANGE".
Stock Configuration & Condition: The face of the grip is marked with a "circled P". The right side of the butt is marked "R / 53".
The hardwood stock has a pistol grip, metal nose caps, stacking loop, two sling loops and a metal buttplate with hinged door for storage in the butt. The buttplate shows scratches, surface erosion and a brown patina. The wood shows numerous scrapes, scratches and compression  marks. The LOP measures 13 1/4 inches from the front of the trigger to the back of the buttplate. The stock rates in about Very Good overall condition.
Type of Finish: Parkerized
Finish Originality: Refinished
Bore Condition: The bore is gray. The rifling is deep; less pronounced at the muzzle. The bore shows an M.E. of 4. The throat shows a T.E. of 4.
Overall Condition: This rifle retains about 93% of its metal finish. The metal shows scrapes, scuffs and thinning on the leading edges of the metal. The gas tube assembly also shows scratches and some discoloration from oxidation. The bottom rear of the receiver has oxidation bleeding though the new finish causing discoloration. The rear of the receiver shows discoloration. The receiver and bolt show light operational wear. The markings are deep. Overall, this rifle rates in about Very Good Plus condition as refinished.
Mechanics: The action functions correctly. We have not fired this rifle. As with all previously owned firearms, a thorough cleaning may be necessary to meet your maintenance standards.
Box, Paperwork & Accessories: The rifle comes with a sling and a leather sling is marked "BOYT in an oval".
Our Assessment: Our Assessment: The U.S. Rifle, Caliber .30, M1 is known affectionately as "the Garand" after its inventor, John Garand. The rifle would become the first standard-issue semi-automatic infantry rifle in the world. While some countries entered the war with limited issued semi-automatic rifles or developed such rifles during the war, America was the only nation to enter with its Army issuing autoloading rifles on a large scale. General Patton famously referred to the rifle as "the greatest battle implement ever devised". Millions were produced during WWII and hundreds of thousands afterward, seeing use through the Korean War and into the Vietnam War. Interestingly, while many other weapons and military items would see production contracts sent out to otherwise non-related companies, during WWII production remained with Springfield Armory and Winchester. It was only after the war that production would be contracted out to another gunmaker, Harrington & Richardson, as well as the agricultural equipment maker, International Harvester.
This M1 Garand was made Winchester back in January of 1942. Its action uses all Winchester parts. After its service life it was exported from Britain back into the U.S. for sales to the civilian market. The barrel is stamped with the British Export mark and a large proof from the London Proof House.
The export marks are commercial marks. They are not British Military marks. This rifle served during WWII but we do not know its service history. WWII M1 Garands that were stored in or transferred through England were marked with commercial proofs prior to export. This includes M1 Garands that served for other Allied countries during and after WWII. This Winchester M1 Garand will add nicely to your WWII collection. Good luck.