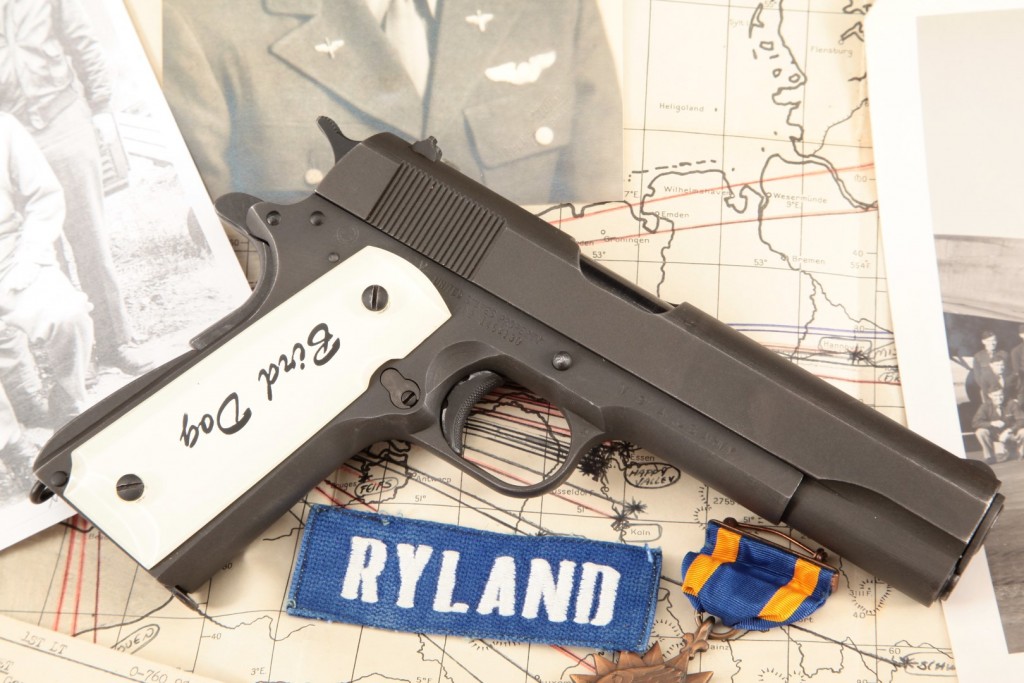 Colonel Byrd Ryland's Bringback Ithaca Model 1911A1, Photo Album & Mission Map
____________________________________________________________________________________________
NOT FOR SALE
____________________________________________________________________________________________
Some history on Colonel Ryland, published online by a relative of Byrd:
CRASH LANDING AT KIMBOLTON, ENGLAND – 1944 AFTER A BOMBING RAID OVER GERMANY – in his own words:
"Our target that day was Hanover, Germany. Right after bombs away we received three close hits that not only knocked out number 4 engine and caught number 3 engine on fire but also injured my co-pilot in the right leg and my bombardier also wounded in the upper leg. We went from 27,000 feet to approximately 5,000 feet in a spin. As we got it under control at 5,000 feet the fire went out on number 3 and we were able to feather it. By throwing out most of our equipment we were able to maintain altitude across the North Sea. The crew took care of the wounded and the co-pilot stayed in his seat to help me control the aircraft.
When the crew inspected the aircraft prior to trying to land my ball turret gunner told me that the left main gear was partially hanging down and was held on by hydraulic lines only. I couldn't get any indication of gear condition so the engineer tried to crank it down. It still didn't come down and I elected to land it in that condition as I couldn't have gone around after an approach and sure as hell didn't want to bail out when I might be able to save it. I made a good landing as far as it goes until I lost control speed.
At that time we started swerving off of the runway to the right. I was headed toward another B-17 which was parked and could do nothing about it. My navigator saw what was about to happen and threw himself over the bombardier to protect him. The wing tip of the other plane came in through the nose of the aircraft and hit my navigator in the face, caving his face in from the eyebrow to his chin. Out of the nine crew members that were aboard, six walked away. They had to sedate me after this one. Col. Preston called me in – had a long talk with me and stopped me from grounding myself. But you know, during this talk there was no mention of a DFC but he did suggest a 48-hour pass! We were back on duty and flew another mission six days later on August 13, 1944."
Crew members were
Pilot – 1/Lt Byrd W. Ryland
Co-Pilot – 1/Lt James C. Denny
Navigator – 2/Lt Harry A. Braswell
Bombardier – 2/Lt Harold Frankle
Engineer – Sgt Joe V. Jewell
Radio Operator – Cpl Bernard L. Dolan
Ball Turret Gunner – Cpl. Herbert O. Lawton
Waist Gunner – Cpl Charles D. Bush
Tail Gunner – Cpl Harold V. Lehman
Continued…
The Press Enterprise, Friday, February 23, 2001 CLASS STITCHES TOGETHER MEMORIES
Betty Capozzi remembers riding a bicycle from her family's farm in south-central England to the U.S. Army air base in nearby Kimbolton, slipping along an earthen ditch unseen by guards to lie on her back and watch the sleek, silver B-17 bombers take off. She was so close and the planes so low as they passed her that her face turned black from splattering oil. And she remembers August 5, 1944, when she and her father raced to see a crippled bomber after the pilot made a near-miraculous belly landing.
Fifty years later…those memories came rushing back as the 73-year-old one-time ballroom dancer attended a crafts class at the Loma Linda retirement home where she lives. Sitting across the table was Bobby Title, 65, a newcomer to the Loma Linda Springs retirement complex. Title showed off a cross-stitch method she had learned that reproduced photographs in fabric. One of her projects was of a photo of her "Uncle Bert", whose real name was Byrd Ryland, the pilot who crash-landed that bomber in 1944.
"I was amazed," Capozzi said. "I have met people in my travels who were stationed in England, but I have never come near a lady like her who said her uncle was stationed in Kimbolton." Capozzi recalls hearing "the bang" when Ryland's bomber landed. She and her father rode their bicycles to the base to see it. "We wondered how the pilot could have landed it," she said…. "It's very exciting," Capozzi said. "It brings back a lot of memories, nice memories from World War II and getting to know the Americans. I didn't know her uncle, but in my heart I feel like I know him."
After this amazing meeting with Betty, I contacted the Press-Enterprise newspaper and asked if they would be interested in a rather unique human interest story. They sent out reporter Darrell Santschi who did a great job, including the taking of the picture above.
Later I mentioned to Betty that when Jerry and I went to England in 1985, Uncle Bert had asked if we got close to Kimbolton he would like us to go to the old base and take a photo if anything was left of it, and if we found the runway, to see if we couldn't bring a little piece of it back. We assured him that we would, but when we got there, no base could be found. We kept asking people to point us in the general direction, but most of those we asked had no idea a base ever existed. When I related this to Betty, she indicated her adult son would be going to England the following month to see those in their family who still lived there. He told his mom he would get one of his pals and they would make a search for a remnant of the runway, and he felt sure someone in his family would remember its location.
A few months later, Uncle Bert and Aunt Betty came from Colorado for their annual trip to California. I arranged for them to come to Loma Linda and to meet Betty Capozzi and her family. And of course the highlight of the visit was when Betty's son presented my Uncle Bert with a bit of the runway, along with a video that he and his buddy had made while they were searching, and ultimately finding, that runway.
Everyone cried.
Continued…
Below in my Uncle Bert's words is his description of another flight in late August of 1944 that didn't end a whole lot better than the first one.
"We were over Mersburg, Germany and received a hit between number 3 and number 4 engines. It knocked us out of formation but I was able to control the aircraft while we feathered number 4 engine. We then got a fire in number 3 engine and feathered it. About that time we were hit by ME-109s. They didn't stick around except for two passes due to about four P-51s coming in to help us. We could not maintain altitude and started down with one of the P-51s staying with us. At about 4,000 feet we were able to maintain altitude. About that time number 3 prop came out of feather and started to windmill out of control. The prop gear box housing became red hot and the gear box froze. When this happened the prop shaft broke and the prop started to teeter so badly that it literally knocked off the engine nacelle.
I was unable to maintain altitude so again we started down. We threw everything out we could find loose. Flak jackets, ammunition, guns and anything we could rip off. We even tried to drop the ball turret. We advised our escort P-51 that we might have to bail out and for him to call Air Sea Rescue and give him our position.
When we reached the French coast my navigator gave up a heading to Manston Air Force Station, England. The prop was teetering and the aircraft throttles vibrating so badly that the only way we could keep them at full power was by jabbing at them. I finally told the men to bail out. At that time, the P-51 said he couldn't stay with us as he was out of fuel and that he had called Air Sea Rescue and they were on the way. The crew decided not to bail out and we would stick with me to the end. By using every trick in the book we were able to maintain approximately 1000 feet until we were about two miles from the runway. When I asked for gear down all hell broke loose and we started down and hit the ground about 200 feet short and bounced onto the runway. At that time number 3 prop tore loose and chopped up the underside of the fuselage from the chin turret to the tail gun position and then spun off onto the runway. After the aircraft came to a stop we all got out and not only kissed the ground but also the good old B-17 that again had brought us home. We counted over 150 holes in the fuselage and wings. We spent the night at Manston and returned to the base the next day….I don't know what happened to that B-17 but it was flyable with a new engine or engines. I think we will all remember that P-51 with "RAMBLIN' RASCAL" written on its side."
Bert served in the Eighth Bomber Command, United States Army Air Force, 379th Bombardment Group (Heavy) which was stationed at USAAF Station 117, Kimbolton, Huntingdonshire, England, June 29, 1943 to July 4, 1945. In a March 1985 copy of Contrails, a publication of The 379th Association, Inc., a non-profit organization of former men connected with this bombardment group and to which my uncle belonged, has a report in it on data from the operational records that were kept on all Groups. It states that "the 379th BG excelled in 1) Number of Sorties, 2) Bomb Tonnages delivered by 8th AF Groups, 3) Bombing Accuracy, average percent of bombs dropped within 1,000 feet of assigned MPI's; 4) Bomb Tonnages dropped within 1,000 feet of assigned MPI's; 5) Abort Rate; 6) Loss Rate – the 379th BG had the second lowest number of aircraft in this category.
It was only after I became an adult and got interested in genealogy that I learned the extent of my Uncle Bert's service to our country. I was born in 1935 and as the picture shows, my uncles (my mother's brothers) were teenagers. I have vague recollections of him coming to see our family during the war years, and one very concrete recollection of him buying both my sister and I each a very special doll of our choice. Of course after the war when he married and settled down in Long Beach, where the Ryland family had lived since the early 1930s, he became a much more real presence in the lives of his nieces and nephews. For a while he headed up the "air and rescue squad" run from March Air Force base near Riverside, California, and in fact after the 1956 mid-air crash of two commercial airliners over the Grand Canyon he was the person sent down into the gorge for an examination of the wreckage. My sister and I grew up hearing stories of airplane crashes and it took me a long, long time before I would ever set foot on an airplane.
Continued…
In 1981 the Long Beach Independent Press-Telegram asked their readers to share their memories of the Pike in Long Beach. My Uncle Bert obliged:
"You might call me a Pike Brat. I started my experience on the Pike shining shoes, between the old bandstand and the old Venetian Square area. Later I worked in most of the pitch games, including working for Emory Christee…. I worked selling three balls for a dime to knock the milk bottles down, pop the balloons and even selling four-for-a-dime photos in the old photo shop….
But my fondest memory was dancing at the old Majestic Ballroom. Myself and three of my buddies used to dance there almost every night and Sunday afternoon from 1939 till we entered the service the Monday following Pearl Harbor…. My buddies and I were dancing there the Sunday the Japanese bombed Pearl Harbor. Someone came into the ballroom shouting that Pearl Harbor had been bombed. We didn't know where Pearl Harbor was but we swore we would all go down to the Post Office the next day and enlist.
I was the only one that showed up that particular day but the rest joined up that week. We joined the US Army Air Corps, Coast Guard, Navy and the Army. All of us saw action overseas and returned to Long Beach at the end of the war. Three of the gang married the girls they were dancing with the Sunday they bombed Pearl Harbor. The three that married are still married to those girls they met at the Majestic.
Only one of the gang has passed on. We don't hear much about the old Majestic any more, but when the old gang meets we don't ever tell war stories but think of the good days dancing at the Majestic and roaming the Pike."
BYRD W. "BIRDDOG" RYLAND, Lt. Colonel, born in Caldwell, KS on March 21, 1919. Enlisted in the US Army, Dec 8, 1941. Transferred to the USAAC in 1942. Entered cadet training in February 1943 and graduated (43-K) on Dec. 5, 1943. Flew tour in B-17s in ETO, 1944.
After 42 missions he returned to the States in December 1944 and was discharged in June 1945. Recalled to active duty in February 1951; started SA-16 Pilot training in April 1952; joined the 12th ARG, 81st ARS at Morrison Field, FL, and flew with the 12th ARG to Bordeaux, France.
In 1953 he was sent to TDY to Korea as aircraft commander with a composite crew to fly rescue combat sorties to pick up any downed pilots (15 sorties) over the Yellow Sea. Returned to Bordeaux at end of hostilities.
Decorations include the Distinguished Flying Cross, Air Medal w/5 clusters, Purple Heart and three Commendation Ribbons, among numerous other awards.
Upon returning to the States in 1954, he joined the 4th ARG, 42nd ARSq and was with this organization until 1956. During this time he was mission commander on many important ARS missions, one being the crash of two airlines (TWA and United) over the Grand Canyon in 1956, where 127 people lost their lives. For this effort he received a personal commendation from Gen. Nathan F. Twining, USAF, chief of staff.
Last two assignments were with the Air Training Command as aircraft commander and instructor pilot at Lowry AFB, 1960-65. He was transferred to Mather AFB (Lowry stopped their flying activity) and joined the ATC Standardization and Evaluation Section as a flight examiner 1965-67, at which time he retired as lieutenant colonel.
He was hired by Rockwell space Div. as a test engineer. During his military career he flew over 15,000 hours in 17 different aircraft in the AF inventory. He was an active member in 179th Bomb Group Assoc., Air Rescue Assoc. TROA and the Daedalians.
He retired to Aurora, Colorado and died May 11, 2004. He was married to Betty White of Long Beach, California. He is survived by his wife Betty, his son, daughter and six grandchildren.
CONCLUSION
____________________________________________________________________________________________
A notarized letter, signed by Byrd Ryland's grandson and consignor of this pistol is included with a copy of Christopher Ryland's California driver's license. The notarized letter is dated 8/8/2013 and discusses how Colonel Ryland returned with this gun from the war and passed it down through the family and eventually to his grandson Chris Ryland. The serial number is listed in the letter, as is the notary and original signature.