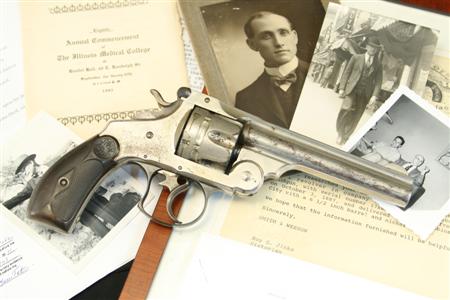 Emmett Dalton's Revolver Sells First At LSB & Realizes More Than at Rock Island Auction
Taking stock #33: The "infamous outlaw Emmett Dalton" was recently sighted in a Rock Island Auction catalog! 
On September 2013, Emmett Dalton was spotted alone, but only briefly, with his Smith & Wesson .44 Double Action on the back of the cover. He was associating with Adolf Hitler sporting his Walther Model 9 and Steve Reichert U.S.M.C., American Hero, and his Barrett M82A1 .
Ok, so that's a bad introduction, but what else should the headlines read ?Rock Island Auction attracts some of the best top shelf guns. A gun associated to the only brother to survive the Coffeyville Bank  Robbery is no exception. This gun was featured on the back cover of the catalog and with a dedicated page in the Smith & Wesson section. This pistol was given a great writeup and excellent photos, the attention all truly exceptional guns get in the RIA Auction catalog. The RIA Auction estimate: $15,000 – $30,000
This is the second time the infamous Emmett Dalton S&W has been sighted. The first time was proudly at Lock Stock and Barrel. Specializing in documented firearms, LSB took on the challenge of introducing this unique piece. Armed with nothing more then a consigner and pistol, LSB gathered the provenance and then began to market. With an email list of previous buyers and a bundle of other social networking tools, LSB promoted this firearm with authority. The LSB estimate: the value of the gun on it's own + association to Emmett Dalton. (A truly one of a kind piece has no ceiling). Believing in the visibility and accessibility of Internet auctions to collectors this gun realized $15,725 @ an Internet GunAuction.
The times are changing, and documented firearms are the first to leave big auction houses for the internet. With more exposure these documented guns are realizing greater prices. LSB is known for their penny, no reserve, and no buy now auction format. So as long as the next guy wants it for that penny more the bidding continues. Now if you spread that anticipation of the final day over a two week period you have finally  reached the LSB difference. Almost forgot, not two or three pictures, but closer to the number of times Emmett Dalton was shot.
Unfortunately, RIA did not meet their consignors reserve which was set thousands below the low end of the estimate. Was it too soon to see Emmett Dalton's S&W? Or was it the LSB difference?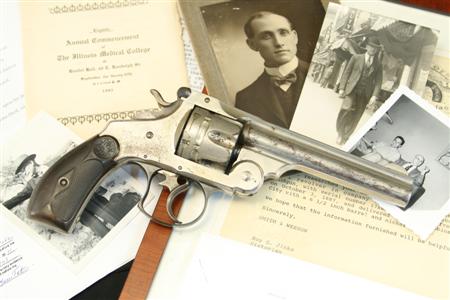 www.LSBauctions.com, The Best Place to Buy, Sell or Consign Firearms ~ We Turn Your Guns Into Cash