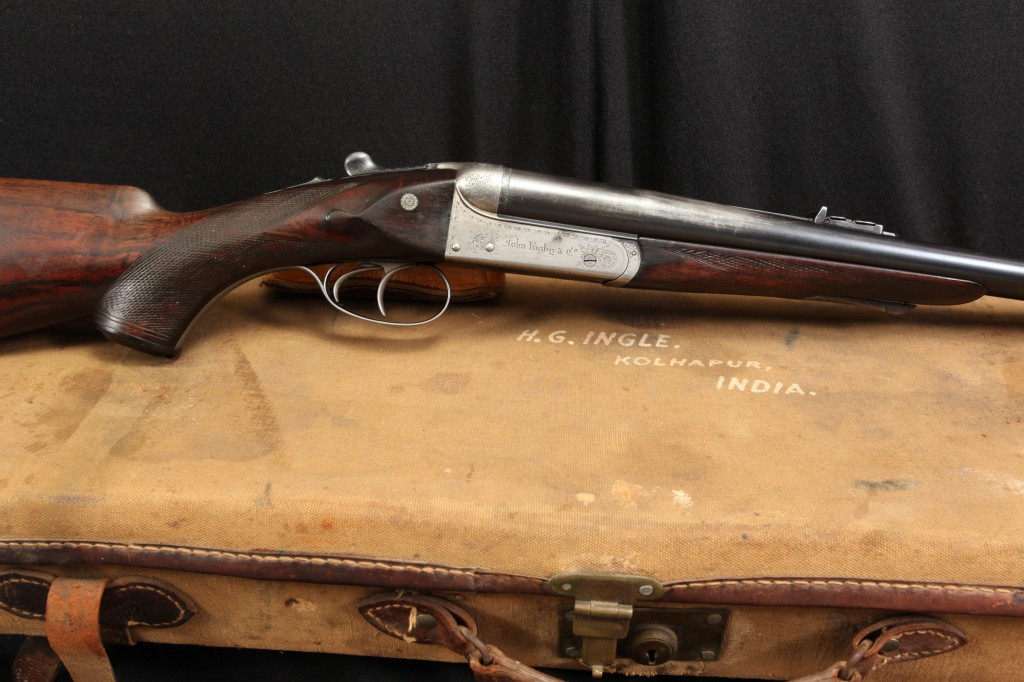 J. McKeand, John Rigby & Co. .470 Nitro Express Class C Double Rifle Now At Lock Stock and Barrel
Taking Stock #32
Death In The Tall Grass.  White Hunter.  The Ghost In The Darkness.  Horn of the Hunter.
If you have ever read of, or dreamed of, embarking on safari in Africa, you know the romance, adventure, and genuine danger that lurks in the Dark Continent.  View the pictures of this remarkable rifle, admire the svelte, purposeful lines of this fine double,  the pinnacle of the gunmaker's art, and breathe in some of that romance.
Ladies and Gentleman, allow me to present this fine John Rigby & Co. Double Rifle, with fitted Holland & Holland case, circa 1907.  Rigby & Co. has been around for the better part of TWO centuries, and they know a thing or two about building guns.  Everything in Africa bites, claws, or scratches, and most of the big game worth hunting are as interested in hunting you, as you are them.  Hence, the big bore, double rifle. 
When you are staring up at a real, seven-and-a-half ton elephant, or a two ton, heavily armored,  charging rhino, your aim had better be true, and it had better be launching a serious caliber.  And when the King of Beasts has taken a personal interest in your imminent demise, there is absolutely no room for error.  According to the Smithsonian, "Even though Africa's lion populations have been drastically reduced in the past decades, lions still regularly eat people; it's not uncommon for them to kill more than 100 people a year in Tanzania alone."  When one of these bad customers focuses its attention on you, one shot might not suffice, and there is often,  literally, no time to work the bolt on a bolt gun.  The double rifle offers two thundering shots, as fast as you can pull the trigger.
If you're hunting in Africa, you want a Big Gun. The .470 Nitro Express carries a 500 grain bullet comes lumbering out the business end of this thing, at over 2,100 fps, churning up, (are you ready for this?) 5,140 Ft-lbs of energy, or enough horsepower to stop a charging Buick. Think you could do it?  Think you could stand your ground, calmly take aim, and squeeze one of those precise, delicate triggers?
Containing all that energy is enough steel to build a dreadnaught, and a lock up that would make a Swiss watchmaker weep tears of joy. 
"But, I already have a …(fill in your favorite bolt gun, here.)"   So, why buy a fine double?    Well, absent the length of a reciprocating bolt, the short length of a double's action makes for a delightfully light-handling rifle, with an overall length that is typically five inches shorter than a bolt gun of similar barrel length.  The weight rests between your hands, making for an easy, sure swing.  Above all, though, the reliability of a dangerous game rifle must be beyond dispute, and it must stay that way, year after year, far away from any gunsmith's machine tools or ministrations, in the harshest climatic conditions known to mankind. Even if one barrel should ever fail, you can still instantly snap the other trigger, and unleash all that thundering horsepower on the offending brute.
That's why people buy John Rigby & Co.  rifles.
Meanwhile, the .470 NE continues to be popular and is the most popular of all the Nitro Express cartridges.  It's one of the World's Great Thumpers, and it's been around over a century, for one, good reason.  When there's bad medicine at the far end of the elegant leaf sights, the cartridge works.  I once read the owner's manual of such a rifle, and, as memory serves me, it contained this caution:  "WARNING: this gun is meant to be fired only by men of large physical stature in good health…"Even if you never make it across the pond, imagine the comfort that those 5,000 Ft. Lbs of energy would provide, when staring down one of the great grizzlies!  And good news; ammunition and components are readily available.
This marvelous rifle has all the hallmarks of the zenith of the glorious British Empire; the graceful lines of the artfully-fitted stock, the hand-cut checkering, the elegant, yet restrained engraving, and That Rigby Name, which still commands a premium, among the cognoscenti of fine firearms.
www.LSBauctions.com, The Best Place to Buy, Sell or Consign Firearms ~ We Turn Your Guns Into Cash
This one bears the name plate of the original owner, J. McKeand, is fitted with gorgeous, highly-figured English walnut, and is contained in a matching, custom-fitted, Holland & Holland leather case, suitable for traveling in style on board the great steamships of the time. 
So, go ahead; join the ranks of legends.   Robert Ruark,  Peter Capstick, Papa Hemingway, Teddy Roosevelt, Frederick Courtney Selous, Harry Selby, Pondoro Taylor, and James Sutherland, each carried a .470 Nitro Express rifle at some point in their careers.  As legendary writer Jack O'Connor once observed,  "The double rifle is a weapon of romance … [it] connotes ivory hunting, long lines of safari porters, drinking sundowners beside a fire of nyombo wood while lions roar on the veldt, affairs of the heart with comely lady leopard hunters."
What a wonderful find, and all in a rifle that will still drop any animal that walks the Earth, today.  The kind of exquisite firearm that you will find at Lock Stock & Barrel Investments.
John Rigby Class C .470 Nitro Express SxS Double Rifle