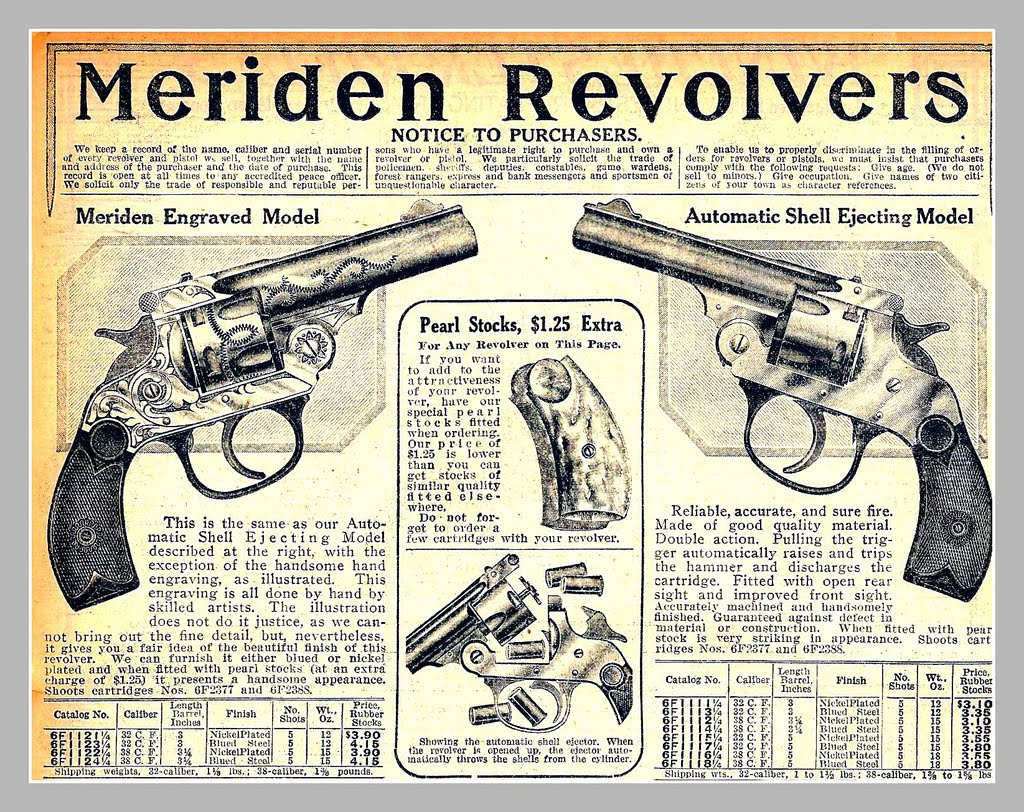 Meriden Arms; From the Verdant Forests to Siberia
What do Saturday Night Specials, side by side shotguns, and Mosin Nagant M1891 rifles all have in common?
If you have a moment to read, here is an interesting tale; these were all manufactured by the Meriden Firearms Company, of Meriden, Connecticut. In a brief but meteoric lifespan that lasted a mere dozen years, the Meriden Firearms company turned out an impressive array of inexpensive, but serviceable, and, in some cases, now, even collectible firearms.
The Meriden Fire Arms Co. was a subsidiary of Sears, Roebuck & Co., actually manufacturing guns for sale exclusively by the parent company. They also imported guns from Germany and Belgium under their name. Meriden Arms Co. was formed after Sears bought the Andrew Fryberg Arms Co. (Fryberg was closely linked to Iver Johnson, long-time manufacturers of pocket pistols.) Meriden plied their trade, turning out .32 and .38 cal. revolvers with various trade names on them.
Selling for a whopping $3.10, or $4.25 fully engraved (!) these were utilitarian, but hardly heirloom quality pistols.  Unless, perhaps, you were willing to spring the extra $1.25 for "Finely fitted pearl grips." Clearly occupying the workman end of the economic scale, Meriden also turned out serviceable shotguns and .22 rifles of various types.
Then came the War To End All Wars. With Russia hard pressed by the First World War, but desperately needing weapons, and her allies stretched too thin to offer much in the way of assistance, the beleaguered Russian government turned to the British.  They, also hard-pressed, turned to American industrial capability, for assistance in meeting their manufacturing needs. With British agents acting as shadowy intermediaries, a deal was struck for three quarter of a million US made Mosin Nagant M1891 Three Line rifles.
Their share of this order far eclipsed Meriden firearms company's production abilities.  Apparently, manufacturing $4.00 revolvers was an order of magnitude less challenging than making a half million battle rifles, and in 1916, they were subsumed under the New England Westinghouse name.
Before all of the rifles could be delivered to Russia, that government fell, and the new Bolshevik government defaulted on the contracts with the United States manufacturers.
This meant that Remington and Westinghouse were left with several hundred thousand rifles in their unsold inventory.
To spare the companies from bankruptcy, the United States government then bought all of the remaining stocks of rifles.  Some of the remaining rifles had already been shipped all the way to Great Britain and those were used to arm the US and British expeditionary forces that were sent to Russia in 1918 and 1919. Some of these must have had fascinating histories, as rifles from this issuance occasionally  show up with arsenal marks of multiple nations stamped on them, from numerous battles and wars, won and lost.
The rifles that remained in the US were used for training in the Army and also used to arm some National Guard, and ROTC units.
Commanding well in excess of $700.00, today one of these American manufactured rifles can be considered among the elite of the Mosin Nagant line.
Meriden Fire Arms continued to produce some firearms in another facility on Center Street in Meriden until 1918 when Sears announced that the Meriden Fire Arms Company would discontinue the manufacture of sporting guns.
From the verdant forests of New England, to dry goods stores across America, to the snows of Siberia, Meriden Firearms carved a unique niche in the history of American arms.