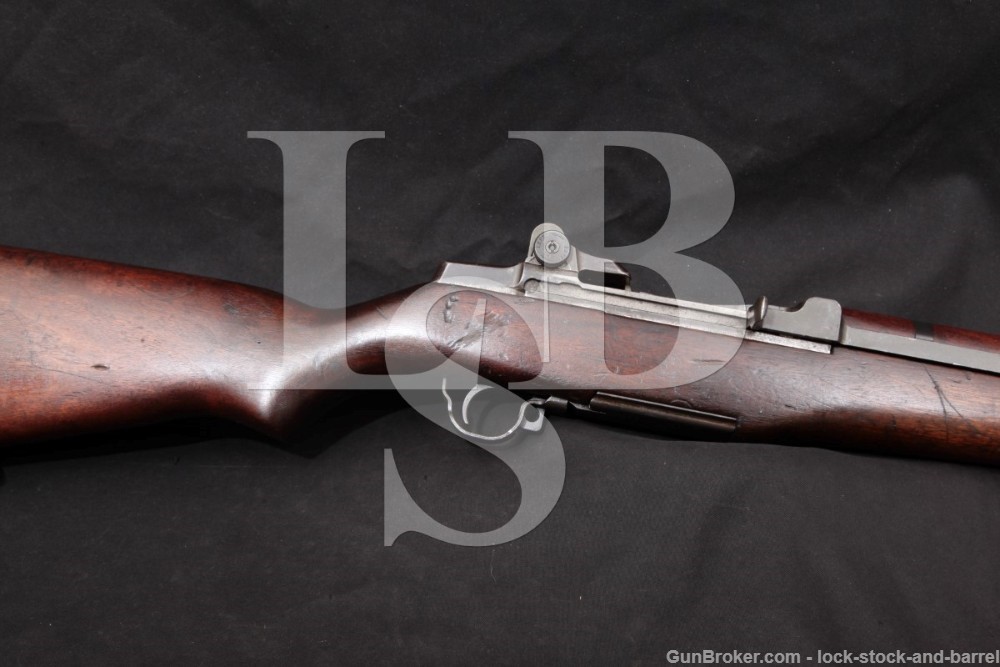 Springfield M1 Garand Navy Mk2 Mod 0 7.62×51 Semi Automatic Rifle 1944 C&R
Sold For;  $1,326
LSB#: 200708DW02
Make: Springfield Armory. Pakistani Conversion
Model: M1 Garand Navy Mk.2 Mod 0 (Mark 2 Model 0). An M1 Garand converted to 7.62 NATO by the installation of a 7.62 NATO chamber insert.
Serial Number: 3294070
Year of Manufacture: November, 1944 (page 186 of Joe Poyer's M1 GARAND 1936 to 1957, 6th edition) Barrel Date: June, 1944
Caliber: 7.62 NATO (7.62x51mm or .308 Winchester).
The 7.62 NATO and the commercial .308 Winchester (7.62x51mm) cartridges are very similar and can be loaded into rifles chambered for the other round. The Winchester .308 is loaded to higher pressures than 7.62 NATO. Check with a qualified gunsmith to determine if .308 can be fired regularly through this rifle.
Action Type: Semi Auto, En Bloc Clip Fed
Markings: There is no visible import mark.
Receiver: "U.S. RIFLE / CAL. .30 M1 / SPRINGFIELD / ARMORY / 3294070"
Trigger Group: "D28290-14-SA" – A Springfield part (page 90 of Joe Poyer's M1 GARAND 1936 to 1957, 6th Edition).
Hammer: "C46008-1 W.R.A." – A Winchester part (page 98).
Safety: Unmarked with a round top – The marking may have been lost to refinishing (page 104).
Follower: Unmarked – Used by all 4 manufacturers (page 83).
Receiver Leg: "A16" and "D 28291-35" –Correct for the Springfield serial number (page 29).
Op Rod: "7790722-SA" – A Springfield National Match part (page 71).
Barrel: "7.62 NATO M11" (hand stamped in Pakistan page 215) and "1 S A 6 44" – A Springfield barrel (pages 61-63).
Bolt: "D28287-D-14A / A-9" – A Springfield part (page 53).
The stock is described below.
Barrel Length: Approximately 24 Inches
Sights / Optics: The front sight is a blade set between two protective wings. The rear sight is a fully adjustable aperture sight set between two protective wings. The windage knob is marked "LEFT arrow" twice and "DRC". The elevation knob is marked from "2-12" in increments of two and with a "hexagon".
Stock Configuration & Condition: The left side of the stock is marked "526" in white paint.
The hardwood stock has a pistol grip, metal nose caps, a stacking loop, two sling loops, and a metal buttplate with hinged door for storage in the butt. The painted buttplate shows scrapes. The wood shows numerous scrapes, scratches, and compression marks. Some have damaged small portions of surface wood. Most of these marks have been oiled over. The LOP measures 13 ? inches from the front of the trigger to the back of the buttplate. The stock rates in about Very Good overall condition as refinished.
Type of Finish: Parkerized
Finish Originality: Original to Rebuild
Bore Condition: The lands are bright and the grooves are semi bright. The bore is light grey near the muzzle. The rifling is deep. There is frosting near the muzzle. The bore shows an M.E. of 2.2.
Overall Condition: This rifle retains about 83% of its metal finish. The receiver legs and bottom of the receiver show thinning. The metal shows scrapes & small scratches. The receiver shows light thinning and  several small spots of discoloration from oxidation. Many of the markings are deep. Overall, this rifle rates in about Very Good condition.
Mechanics: The action functions correctly. We have not fired this rifle. As with all used firearms, a thorough cleaning may be necessary to meet your maintenance requirements.
Box, Paperwork & Accessories: None
Our Assessment: This Springfield Armory M1 Garand rifle was originally made back in 1944. The rifle was eventually converted to an M1 Garand Navy Mk.2 Mod 0 with a 7.62 NATO chamber insert. Other countries such as Denmark and Pakistan used M1 Garands chambered in 7.62 NATO. This M1 Garand was converted in Pakistan; at least the barrel was. Our reference material and the CMP Forums indicate that the Paki's converted M1's using the chamber insert and a plastic spacer in the clip well. The Pakistani M1 Garand barrels were hand stamped "7.62 NATO MII". Some of the barrels were sold as parts kits that were later assembled into M1 Garands in the United States. This is an interesting M1 Garand to add to your collection.
For more information on the original 7.62×51 mm NATO U.S. Navy Garand Rifles see the American Rifleman article by that name at americanrifleman.org/articles/2013/12/23/762×51-mm-nato-us-navy-garand-rifles/ .
CA Legal or CA Private Party Transferable? (THIS SECTION DOES NOT APPLY TO OUT-OF-STATE RESIDENTS): This C&R rifle can be transferred in California. All C&R firearms must be transferred through your local dealer OR at our Simi Valley location; we cannot ship directly to a C&R holder in California. Out of state residents can disregard this section – your local laws apply.