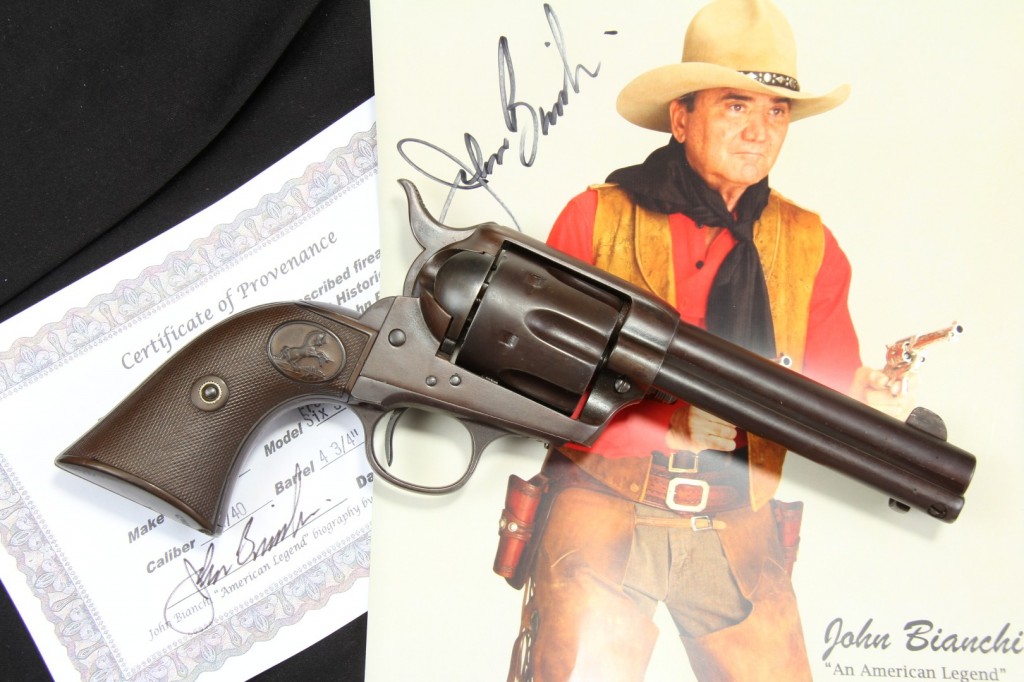 John Bianchi Consigns Part His Collection to Lock Stock & Barrel Investments!
Taking Stock #27: John Bianchi consigns a part of his valuable firearms collection to Lock, Stock, & Barrel!
If you know gun leather, you know John Bianchi.  His name is synonymous with holster rigs! He virtually invented the modern slide holster.  The NRA Bianchi Cup bears his name.  The Beretta M-9 UM-84 holster in use today with the US Military is his original design.  His company, Frontier Gun Leather, meticulously handcrafts some of the finest, most beautiful, and beautifully made, period gun rigs to be found, anywhere.  His credentials extend far beyond that of mere leather maker, however.  In his lifetime, John Bianchi has been a soldier, police officer, top competitive shooter, and innovative firearms retention designer.
Maker of fine gun leather since 1958, as a gun guy, he has amassed a collection that could stock a museum.  In fact, it does!   Bianchi was a major contributor to the Autry National Center, and that marvelous firearms museum is host to a myriad of his guns.
Then, there are the over 20 million Bianchi holsters in existence.  That's a lot of leather!  John Bianchi is a true American success story, starting from his kitchen table, ending up with a multi-story corporate HQ.  As American Rifleman understatedly put it, "John Bianchi was a soldier, a police officer, a competitive shooter and, of course, the world's foremost holster maker…"
Which is why we are honored that a discriminating shooter and collector with the prominence of John Bianchi would entrust the consignment of his firearms to Lock Stock & Barrel Investments.
This is your chance to own a piece of American history, but more than that, another reason that you know you can trust Lock Stock & Barrel Investments, for your firearms consignments and purchases.
By Mark Romano