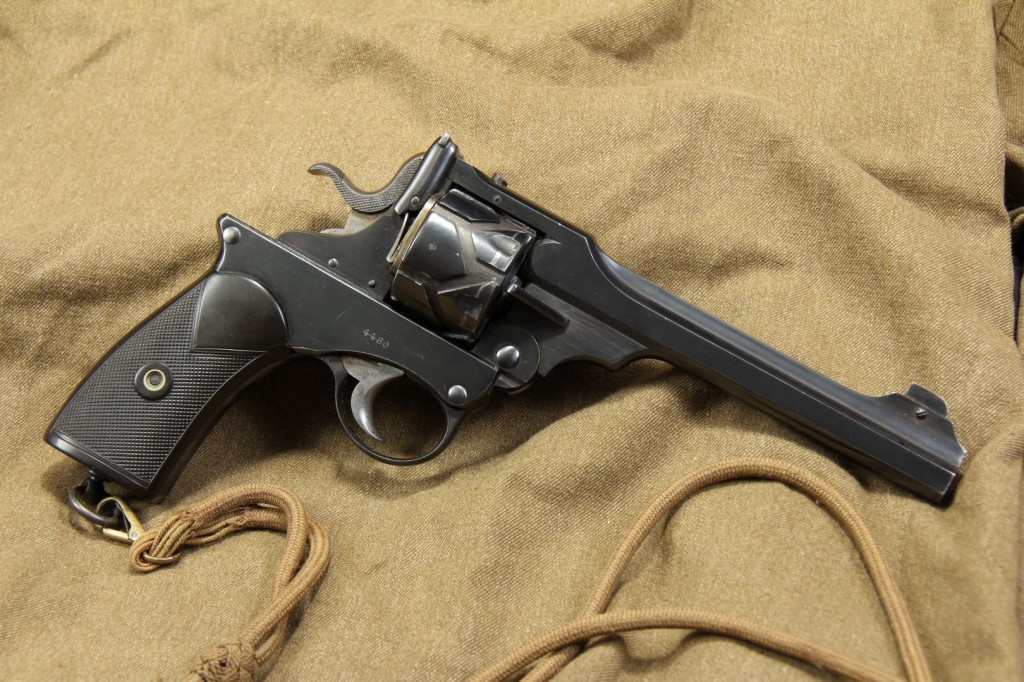 .455 Webley Fosbery Semi Automatic Revolver
NOT FOR SALE
"Semi-automatic pistols were just beginning to appear when Colonel Fosbery (1832–1907) devised a revolver that cocked the hammer and rotated the cylinder by sliding the action, cylinder, and barrel assembly back on the frame. The prototype was a modified Colt Single Action Army revolver. Fosbery patented his invention August 16, 1895 and further improvements were patented in June and October 1896.
Fosbery took his design to P. Webley & Son of Birmingham. P. Webley & Son, which merged with W.C. Scott & Sons and Richard Ellis & Son in 1897 to form the Webley & Scott Revolver and Arms Co., was the primary manufacturer of service pistols for the British Army as well as producing firearms for civilian use. Webley further developed the design and the Webley-Fosbery Automatic Revolver was introduced at the matches at Bisley of July 1900.
The revolver was initially made in .455 calibre for the British service cartridge, and later in .38 ACP. While the .455 version had a standard 6-round cylinder, the .38 high velocity (.38 Colt ACP) version had eight chambers and could be loaded by a circular full-moon clip. The .38 version had a shorter cylinder, and thus shorter recoil stroke. Some were made with the short frame in .455 caliber. A variety of modifications led to the production of 6 different models, Marks I through VI.
In civilian use, the Webley-Fosbery was popular with target-shooters. Because the trigger mechanism did not rotate the cylinder, shots were smooth and consistent, permitting rapid and accurate shooting. Walter Winans, a famous contemporary target shooter, preferred the Webley-Fosbery and in 1902 he used it to place six shots in a two inch bull's-eye at 12 paces in seven seconds. Using a Prideaux speedloader he was able to fire twelve shots into a three inch bull's-eye in approximately 15 seconds. Recent research using a .455 short frame model in Switzerland has achieved a five-shot 8″ group at 10 meters in 1.27 seconds.
Webley-Fosbery was available in several standard configurations with barrel lengths of 7.5 inches, 6 in., and 4 in., and was also made to order. They could also be ordered with Metford (polygonal) rifling. The pistol could also be purchased with a single-shot .22 adapter for competitive target shooting; the cylinder was removed and it was inserted into the barrel." (Wikpedia)
This is a sharp example of a desirable gun. The Webley Fosbery is one of the most interesting firearms ever designed. It has been called the answer to a question that no one asked, and was probably a decade too late.