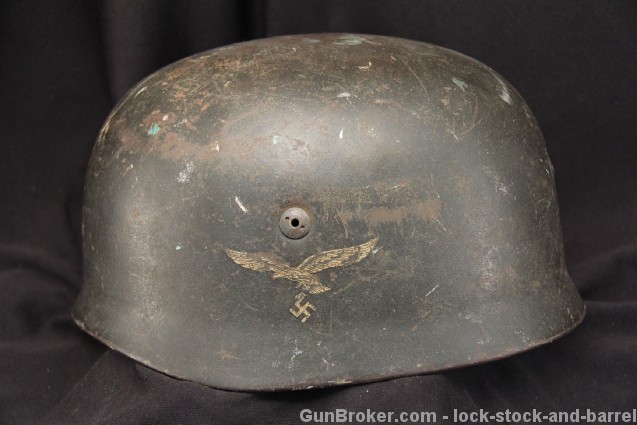 Nazi German M38 Fallschirmjager Paratrooper Helmet
SOLD FOR: $1,550
Make: "ET" Eisenhuttenwerke, Thale, Germany
Model: M1938 Fallschirmjager (Paratrooper) . ET68 Lot 236
Lot Number: "236" stamped on the inside at the rear.
Year of Manufacture: Mid 1942? Please help us date this helmet more accurately.
Markings: This helmet is marked "ET68" and "236" on the inside. The outside of the shell is marked with the single decal of the 2nd pattern Luftwaffe, Eagle with Wings spread, with the Swastika being held in the right talon. The decal is on the left side of the helmet.
Type of Finish: Appears Original
Condition: The finish of the helmet shows surface scratches, discoloration, paint (?) marks,and mild erosion. The liner is missing. The decal is in Good overall condition.
Our Assessment: The World War II German Paratrooper helmet is quite different from that of the typical shaped German Helmets from WWI & WWII. They are more round with a slight visor at the front. The initial design was to allow for a more aerodynamic shape to prevent injury when jumping, especially from the violent prop blast that a Trooper would experience when exiting the aircraft. These soldiers were also poorly armed, a pistol and "gravity knife", until they could retrieve their supply drops. These were some of the toughest German soldiers and were nicknamed "The Green Devils" by Ally Soldiers. These are highly collectable and desirable helmets. With the low lot number this helmet is a collector find!.