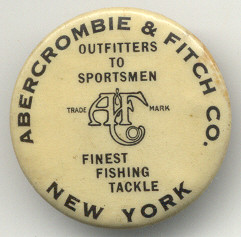 Abercrombie & Fitch; From "America's Expedition Outfitter" to…"Casual Luxury"… Really… ?
Taking stock #17: Abercrombie & Fitch; From "America's Expedition Outfitter" to…"Casual Luxury"… Really… ?
Into the shop has come an Abercrombie & Fitch side by side 12 gauge shotgun.  Nice gun.  A & F dealing guns?
If you are surprised by this, you have revealed your age to the rest of us.
Abercrombie & Fitch was once one of the largest expedition suppliers and outfitters in the world. Their flagship New Yorkstore was a city block in size, and hosted the famous and the infamous for the best part of a century. The store was stuffed with sporting goodies, and more, there were stuffed trophies, guns worth more than my house and lots and lots of "African Safari" stuff.  When did it become the home of lost youth, the trendy, the chic, and the fashionista?
Abercrombie & Fitch was founded in 1892, and rapidly grew to become one of the world's premiere expedition outfitters.  By 1917, Abercrombie & Fitch had established itself on Madison Avenue and45th Street, where it occupied an entire twelve story building. Outside a sign proclaimed "Where the Blazed Trail Crosses the Boulevard." Abercrombie & Fitch had become the largest sporting goods store in the world, as well as the most impressive. The clerks were outdoorsman, suited to fitting a Holland double gun, or advise on how to keep tsetse flies off in the African Veldt.
A log cabin was built on the roof, which Fitch used as a townhouse. Next to it he installed a casting pool, where fishermen could sample the store's impressive collection of rods and flies. In the basement, an armored rifle range was set up to satisfy customers that their high-end safari rifle would be to point of aim. There was also a golf school, a floor dedicated solely to completely set-up camps, and a dog and cat kennel. In addition to the more standard types of outdoor goods, A&F had a selection of exotic sporting equipment to satisfy the most arcane or dedicated sportsman, dealing in: hot air balloons, yachting pennants, portable trampolines, treadmills for exercising dogs, throwing knives, shirts of chainmail, real leopard collars, and even supplies for falconry.    It was an impressive and imposing edifice, and outdoorsmen and women of all stripes flocked to it.
As their reputation grew, by word of mouth and a quality printed catalog, Abercrombie & Fitch outfitted many great hunting and exploration expeditions, like Theodore Roosevelt's trips to Africa and the Amazon and Robert Peary's expedition to the North Pole. Ernest Hemingway bought his guns there. Presidents Hoover and Einsenhower relied on A&F for the best fishing equipment. Other famous clients included Amelia Earhart, Presidents Taft, Harding and Kennedy, the Duke of Windsor, Bing Crosby, Howard Hughes, Katharine Hepburn, Greta Garbo and Clark Gable. And there was the clothing; such luminaries as Cole Porter ordered his evening clothes from Abercrombie & Fitch. During Prohibition, A&F was even the place to buy hip flasks!
Well, times, tastes and marketing change.  By 1977, the original company had filed for bankruptcy.  After a brief attempt at resurrection by the Oshman's Sporting Goods chain, the name was sold to The Limited clothing chain, which embarked on the marketing success that is the "Casual Luxury" lifestyle apparel maker we know today.  Really, you have to admire their business model, selling used-looking clothing at premium prices.  Heck, I could just go through my laundry basket for worn jeans and tattered caps!
But I digress.  What a nice shotgun we have here; a handsome and well-made Abercrombie & Fitch Side by Side shotgun.  While I'm certain that it would give the current managers of the name apoplexy, it is in fact a quality shotgun by the famed Italian maker Rizzini, worth a pretty penny, for both build quality and usefulness.
So go ahead, slide into your fashion jeans with the worn knees, the $65 T- shirt with the Moose logo, and the $50 baseball hat with the worn brim.  Log on to lsbauctions.com, slap down a bid, and go hunt grouse in Scotland, or just bust some clays with this handsome Abercrombie & Fitch shotgun!  Cheaper than a bottle of Fierce men's cologne, it'll intimidate soft-handed clothing store clerks, and impress the ladies.
Just another example of the interesting finds here at Lock Stock & Barrel Investments, where we don't sell clothes….
By: Mark Romano
From This…
To This: