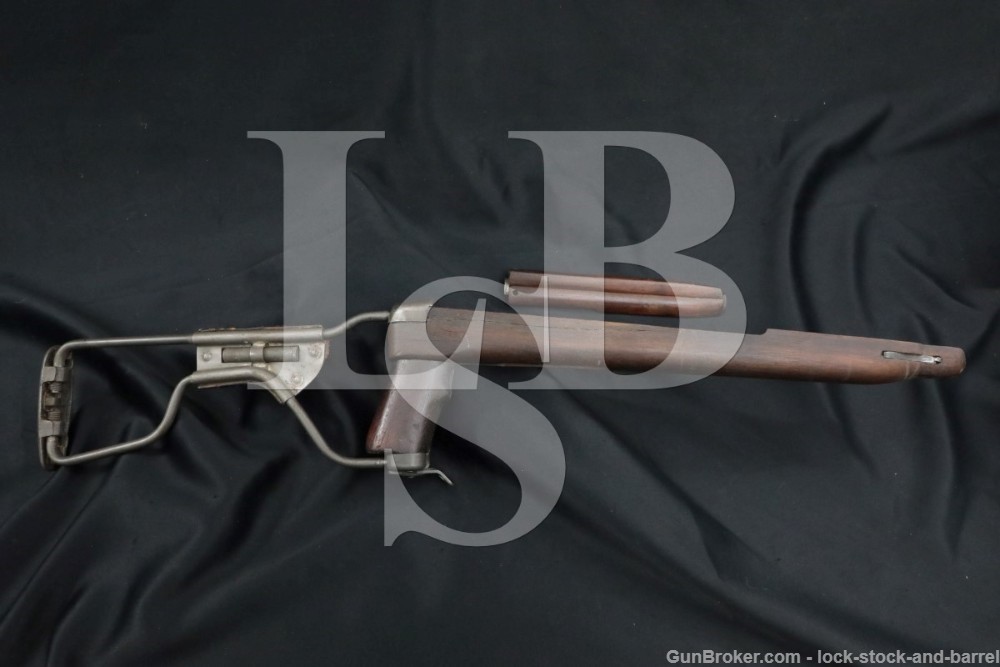 WWII US Army Inland M1 30 Carbine M1A1 Folding Paratrooper Stock &Handguard
SOLD FOR: $1010.10
LSB#: 210923DX01
Item: Paratrooper Folding Stock & Handguard
Manufacturer: Inland
Fits: M1 Carbine
Model: M1A1
Caliber: .30 Carbine
Dimensions: OAL: 28.5″, Folded: 18" Item is photographed on a 1″ grid with 1/4″ dots.
Finish: Wood
Markings: The Stock cutout is marked "OI". The base of the pistol grip is marked "OI" and the crossed cannons emblem. There is a "P" on the face of the pistol grip. The metal buttplate is cast "B257614" with a wheel. The upper handguard is unmarked. It may have been previously sanded as well.
Originality: Orignal
Condition: The folding stock is in Good condition as amateur repaired. There is an obvious repaired crack running along the right side. There is some glue runoff still visible inside. There are typical scratches and scuffs from the previous service. The leather has a rip and some fraying to the edge. There is some indication of sanding to the wood in places. You may want to clean this to meet your standards. Please see our photographs for a better understanding of the contents and its condition.