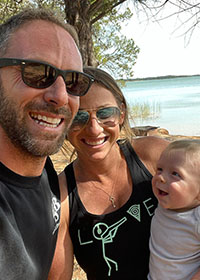 Spencer Hoglund CEO / CFO
Spencer is our founder, he started Lock Stock & Barrel in his college apartment in 2007. After Grad School at Pepperdine, Spencer took Lock Stock & Barrel full time and has guided it through tremendous growth, centered on delivering the best service quality possible. You'll find Spencer's three Labrador Retrievers at work with him on a regular basis and when not at work, he's probably on Molokai.
Chad Davis CMO / Director of Acquisitions
Chad runs the Acquisition department here and is the one responsible for getting us the items we auction. He is on the road and on the phone constantly, keeping the flow of guns and merchandise into Lock Stock & Barrel impressively steady. When Chad is not working his tail off, which is rare, you'll find him watching basketball or lounging poolside in Vegas. Everyone's best friend, you'll love working with Chad.
Dan Davis eBay & Operations Manager
Dan runs our eBay department here and oversees all auction operations. Dan has his BA in Business Management from CSUN. He is our jack-of-all-trades and whatever the company or our customers need, Dan takes care of it. When not at work, he can be found bow hunting or fishing in the Sierras, where legend has it that he once ran down a ground squirrel on foot and caught it bare handed.
Steven "Bud" Rubert Write-up Manager
Bud is our lead writer/researcher here and with the help of the other writers, makes sure our merchandise is accurately described and timely put to auction. He is a 4 time Overall World Champion Cowboy Shooter, lover of heavy metal and incredible gun geek. When not typing away, Bud is usually on the range, shooting Steel Challenge and beating all those modern pistol shooters with his Single Actions.
Matt Minick Photography & IT Manager
Matt manages the photography department here, making sure buyers see exactly what they will be getting and ensuring that all images are ready when the auctions run. As a Candy Fiend, fueled almost entirely by sugar, Matt works whatever hours are needed to get the job done and done well. A Cal Lutheran Golf Team Alumni, perhaps the only thing he is more comfortable in-hand with than a camera is a Golf Club.
Alexsis Mackey Office Compliance Manager
Alexsis or "Lexi" is the glue that holds us together. Whether managing the office or ensuring all paperwork is done accurately and legally, she is on-the-ball, organized and an incredible asset to the operation. Customers will get her on the phone first or be greeted by her friendly face when they walk through our doors. The most amazing aspect of Alexsis is her ability to put up with the rest of us.
Sian Morgan Compliance Coordinator
Sian is the most organized person there is. She keeps her head down and is constantly straightening out the mishaps of the rest of us. Nothing gets past her and the only folks that like her as much as we do are those at ATF and DOJ. When she is not here keeping things in order, she is Pole Vaulting and working-out as her next stop will no doubt be the Olympics!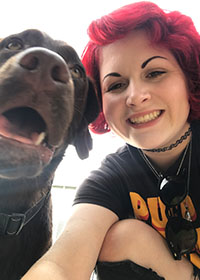 Amanda Rella Office Coordinator
Amanda is whatever we need, whenever we need it. She opens the shop up and makes sure everyone has whatever they need to keep productive. Nothing is beneath her and nothing is above her, well actually at 5'2″, almost everything is above her. Don't let the dark appearance or the scowl fool you, she's as friendly and go-with-the-flow as could be.
Chris Corcino Shipping & Inventory Manager
Chris is our shipping manager; maybe mild mannered, but a packing beast. Whether it's 300 items in a day following our eBay auctions or a literal ton of bullets and brass, Chris gets it out on time. You won't find firearms packed better anywhere else in the industry. When not stuffing boxes, Chris is running the local Steel Challenge matches as the "Prince of Carry Optics".
Craig Scott Parts & eBay Writer
Craig is one of the few here responsible for our massive volume on eBay. Having liquidated Gun and Gunsmithing shops, we have tons of parts that need identification. Always with caliper in hand and jewelers glasses at the ready, Craig weeds through our parts piles and brings exciting offerings every week to our customers. When not nose down over the work bench, he is laying down rubber on the street bike.
Robert Herrera Ammo & Components Writer
Robert or "El Roberto" is always diligently sorting through ammo, brass and bullets, keeping a steady flow for our bidders and doing it with a smile on his face. Whether it is a box of 9mm or a single obscure and obsolete cartridge, Roberto will identify it and get it to auction. If you don't get the response you need from him, he's not ignoring you, he just cant hear you. Speak Up!
Rob Cobos Foreign & Us Military Rifle Consultant
Rob is our ever knowledgeable and insightful expert on both Foreign and US Military Rifles. It is always a challenge to stump Rob, and whether its a bayonet or a bolt, he can not only identify the rifle but also tell you the entire history of it. Rob is a retired Police Officer, spending his time now identifying what we get in here, pumping iron at the local gym or "nerding" out at Comic Con.
Pat Skinner Antique & Obsolete Gun Consultant
Pat has an eye for the obscure and rare. He is our go-to expert for all those things we have never seen before, and whether US or foreign, he can probably tell you what it is from across the room. We have wondered for years where the knowledge came from; and then realized that despite the youthful appearance, he was there when these 1800's antiques were actually produced.
Spencer "Big Red" Garrett Modern Firearms Writer
Red has climbed the ranks here, showing dedication, incredible energy and perseverance from the start. Red showed up, resume in hand, repeatedly, until we finally broke down and hired him. Originally just our coffee boy and gopher, he has become a crucial part of the team and one of our most valuable writers. We often wonder what we would do without Red, his antics and his mediocre impersonations.
"Uncle" Lew Taub Reloading & Ebay Writer
Lew has been here since the start. Even after three attempts at retiring, he just cant stay away. We wouldn't be where we are and we couldn't get done what we do without Uncle Lew. A bull of a man, with more energy than someone half his age, Lew gets done whatever is put in front of him and whatever is needed. When not here, you'll find him in a Duck Blind or with the Vegas and Idaho grand kids.