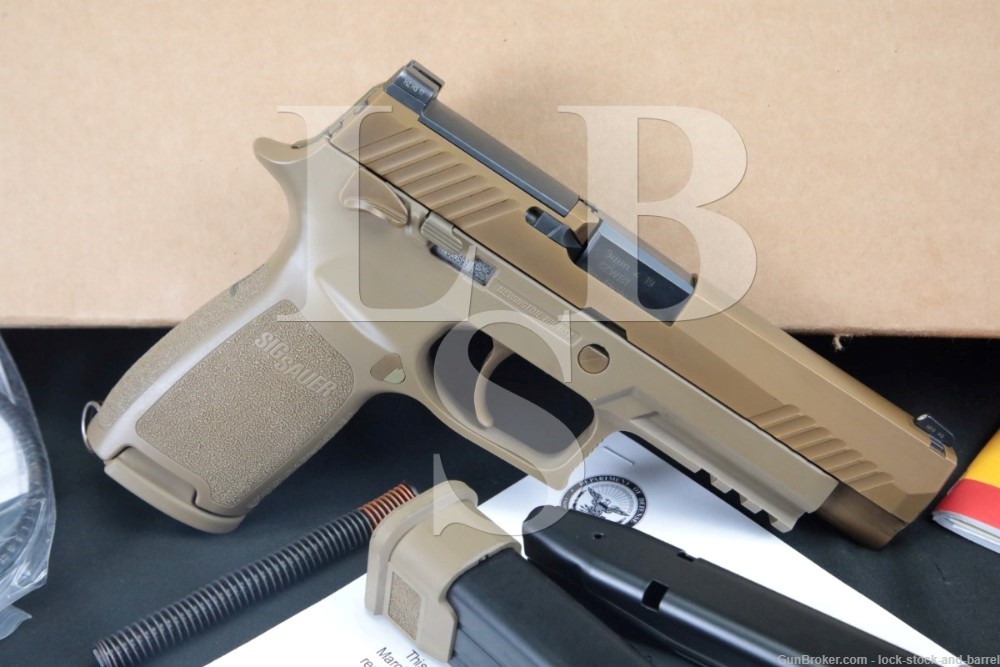 Genuine U.S. Military Sig Sauer M17 M-17 9mm Semi-Automatic Pistol
Sold for $2214.16
As had previously occurred with the venerable 1911A1, the Beretta M9 which replaced it saw extensive use and abuse. By 2008, some Berettas in inventory were nearing the end of their service lives and the United States began looking for a replacement. Thus began the Modular Handgun System competition. The MHS was to be truly modular, with a picatinny rail for accessories, ability to alter the grip to fit different hands, multiple magazine options, ability to mount a suppressor, and ambidextrous controls.
The result of the competition was the adoption of a variant of the Sig Sauer P320 which was designated the M17. The M17 has a removable fire control unit which can be installed in a variety of grip modules, accept a variety of slide modules, and which incorporated the capability to mount a reflex sight. The M17 has been adopted by most branches of the US military and is currently in service.
This example, according to the included Certificate of Authenticity, was issued and fielded during the initial domestic and in-theater deployment of the MHS Program and manufactured for the U.S. Army. The pistol shows signs of use, but is still in Very Good-Fine condition with a great bore and strong mechanics. This is a great opportunity for fans of Sig Sauer and collectors of U.S. Military small arms. There's no telling when or if the M17 pistols will be surplused to the commercial market again.