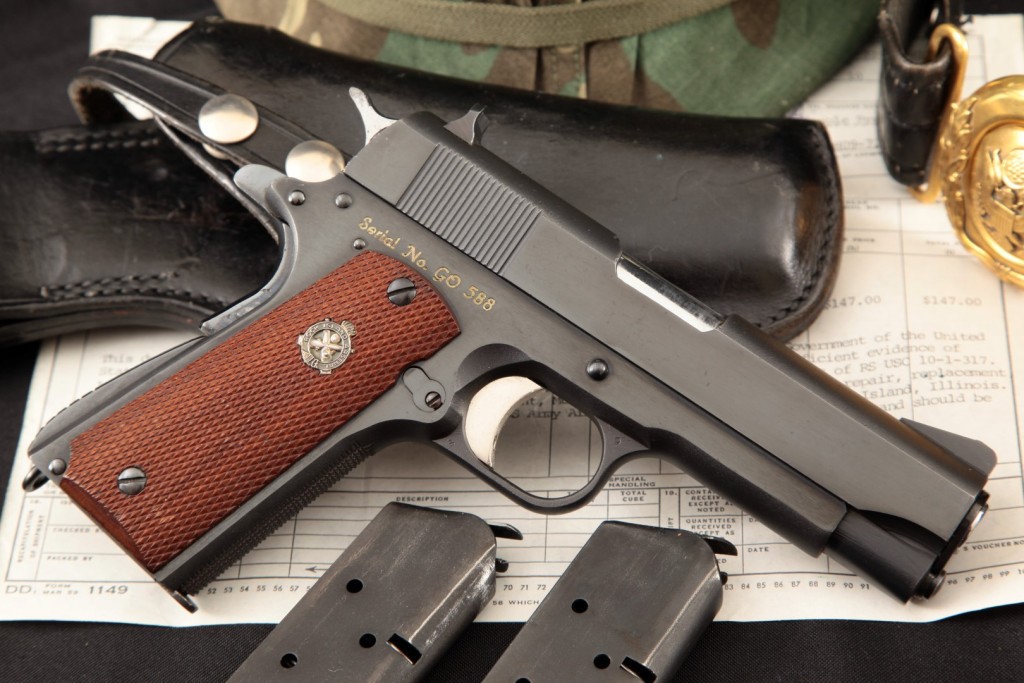 Rock Island Arsenal Model M15 General Officer's Pistol Issued to General Phillips N. Gordon
____________________________________________________________________________________________
FOR SALE: $12,500
____________________________________________________________________________________________
Brigadier General Phillips N. Gordon: October 30, 1924 – January 14, 2016
Brig. Gen. Phillips N. Gordon, Indiana Army National Guard Asst. Adjutant General
Son's Obituary 2016: "Dr. Gordon, a former educator, soldier, and author, began his teaching career in 1950 as the youngest principal of a public school in the State of New Hampshire. He smartly added snow-skiing to the curriculum.
He was called into active military service in 1951 and was a military psychologist before being sent to Korea. Following a number of top-secret military assignments, Dr. Gordon was stationed at Fort Benjamin Harrison. He began as an instructor and Chief of the Human Resources Division. Later, he became Director of the Recruiting and Retention School. He had a particular affinity for teaching officers how to motivate their troops. He drove a military vehicle that my friend, Christy, and I were embarrassed to ride in. We called it the "groovy green car," and scooched way down in the backseat to avoid detection.
The United States Army recognized Dr. Gordon's contributions by awarding him the Army's highest, and twice the Army's second highest, decoration for Exceptionally Meritorious Service.
Following his resignation from the regular Army, he joined the Indiana Army National Guard. His assignments included Commandment of the Indiana Military Academy (OCS), Assistant Division Commander – 38th Infantry Division, and Deputy Adjutant General. He was retired as a Brigadier General. He holds 16 military decorations for valor and meritorious service, including the Purple Heart, Legion of Merit, and the Combat Infantry Badge.
Phillips Gordon's primary interest and contribution was identifying those critical factors (by category) the objectives that leaders and managers must understand in order to effectively manage and lead the young soldier. His written works included: Old Theories vs. a Changing Environment, Are You Ready for Tomorrow?, and other military instructional television programs and case studies.
Dr. Gordon was a part-time instructor in the Industrial Relations and Decision Making for Executives at Indiana Central University (now University of Indianapolis). He was a frequent guest lecturer throughout the Active Army and the Reserve Components, and at public school training sessions.
He was a past President of the Association of the U.S. Army, Indiana Chapter, and Vice President of the Army War College Foundation. He served on the Board of Directors of the Uniformed Services Benefit Association, a national insurance association for military members and their families. He also served on a number of National Level Committees and study groups dealing with military subjects.
He was preceded in death by his first wife, Ann Delp Gordon; and his second wife, D. Octavia Gordon. Sadly, he was also preceded in death by both of his children, Diane Delp (Gordon) Fritz and Douglas Nason Gordon. Dr. Gordon and Mrs. Ann Gordon became the guardians and parents of their infant grandchild, Ann Gordon (Fritz) Shedd, and raised her as their own. Dr. Gordon is survived by daughter, Ann Shedd; and two awesome grandchildren, Andrew Gordon Barab-Shedd (13) and Sara Claire Shedd (9). He is also survived by one of his nine siblings, Joyce Emanuelson; and many wonderful nieces, nephews, and cousins.
When I was small, I called my dad, "Bampa," as did all of my friends. He was charming, gracious, and brilliant. He made me laugh every day of my life (except when I was temporarily disowned for making terrible choices). He enjoyed bridge, golf, cocktail hour, coupon-cutting, flirting, and the funny papers. He loved his family, his country, and his beautiful life, almost as much as he loved sugar, puppies, and saving money. He could predict the future, and the world would be a much better place if he had been King."
____________________________________________________________________________________________