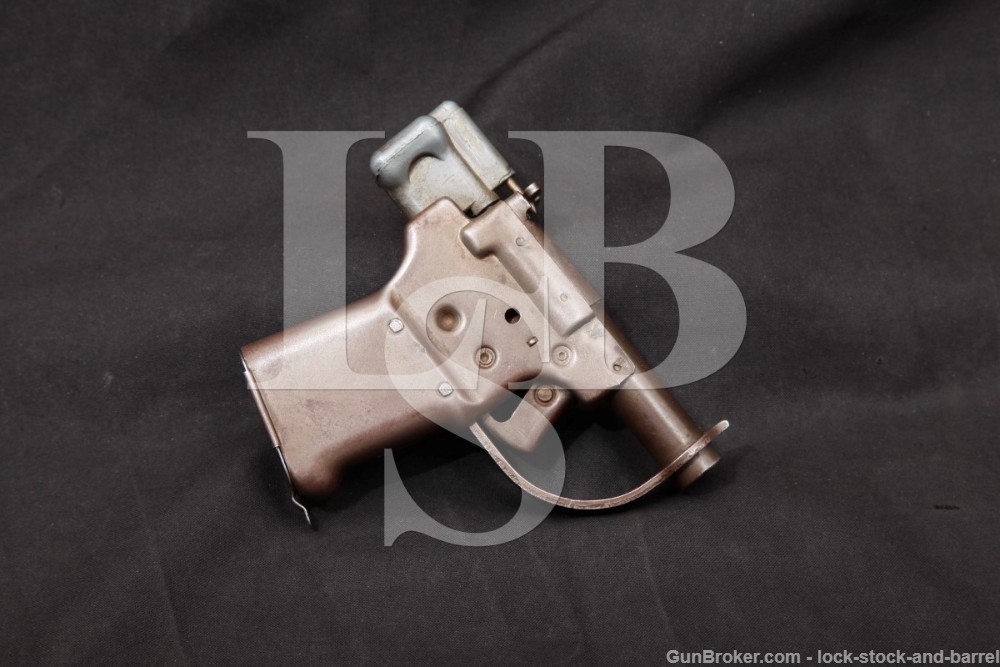 WWII General Motors Guide Lamp Division FP-45 Liberator Pistol, 1943-44 C&R
Sold For: $3,476.50
LSB#: 201001DW33
Make: General Motors Guide Lamp Division
Model: FP-45 Liberator
Serial Number: NSN
Year of Manufacture: Ca. 1943-1944
Caliber: .45 ACP
Action Type: Single Shot, Manual Cocking Breech Loading Pistol
Markings: None
Barrel Length: 4?
Sights / Optics: The front sight is a fixed blade integral to the trigger guard assembly. The rear sight is notch in the sliding breech.
Stock Configuration & Condition: The grips are sheet metal and are integral with the frame. The grip portion of the frame has a few light marks and scattered discoloration from oxidation, in about Very Good-plus condition.
Type of Finish: None
Finish Originality: These guns were unfinished (in the white.)
Bore Condition: The smooth bore shows manufacturing marks, but no erosion or wear.
Overall Condition: This handgun has a few small casting flaws, lesser quality welds, etc., typical of this model's production. That said, when it comes to wear or age, there is very little. The gun just shows a general light brown patina, with infrequent scattered erosion. This is truly as good as you could expect for an unfinished 70 year old gun. Overall, this handgun rates in about Fine condition.
Mechanics: The action functions properly. We did not fire this handgun. As with all used firearms, a thorough cleaning may be necessary to meet your maintenance standards.
Box, Paperwork & Accessories: The plate for the butt is included.
Our Assessment: Everyone wants one of these and the only thing to turn off collectors lately is the flooding of the market by VOCO Reproductions. This one, however, is REAL. Your best reference is Man At Arms, Vol. 35 No. 2, April 2013 – page 39. All features confirming originality are found on this pistol: 1) Poor welding on the top of the breech, 2) lack of manufacturers markings, 3) lack of serial number, 4) poorly cast cocking pieces, 5) .450 bore diameter (reproductions had a groove to groove diameter of ,454). . . We have scanned the article for your assurance – this is a guaranteed original Liberator and one of the few we've seen.
The FP-45 Liberator was a pistol manufactured by the United States military during World War II for use by resistance forces in occupied territories. The Liberator was never issued to American or Allied troops and there is no documented instance of the weapon being used for their intended purpose. Many of the FP-45 pistols were not distributed and were destroyed by Allied forces after the war; most of those distributed were lost or disposed of without any combat use.
The concept was suggested by a Polish military attaché in March 1942. The project was assigned to the US Army Joint Psychological Warfare Committee and was designed for the United States Army two months later by the Inland Manufacturing Division of the General Motors Corporation in Dayton, Ohio. Production was undertaken by General Motors Guide Lamp Division to avoid conflicting priorities with Inland Division production of the M1 carbine. The army designated the weapon the Flare Projector Caliber .45 hence the designation FP-45. This was done to disguise the fact that a pistol was being mass produced. The proposed intent was to drop these weapons at concentration camps where internees would pick up these weapons overcome Nazi Guards and hopefully liberate the camp. The original engineering drawings label the barrel as "tube", the trigger as "yoke", the firing pin as "control rod", and the trigger guard as "spanner". The Guide Lamp Division plant in Anderson, Indiana assembled a million of these weapons. The Liberator project took about 6 months from conception to end of production with about 11 weeks of actual manufacturing time, done by 300 workers.
The Liberator was shipped in a cardboard box with 10 rounds of .45 ACP ammunition, a wooden dowel to remove the empty cartridge case, and an instruction sheet in comic strip form showing how to load and fire the weapon. Extra rounds of ammunition could be stored in the pistol grip. The Liberator was a crude and clumsy weapon, never intended for front line service. It was originally intended as an insurgency weapon to be mass dropped behind enemy lines to resistance fighters in occupied territory. A resistance fighter was to recover the weapon, sneak up on an Axis occupier, kill or incapacitate him and retrieve his weapons.
The weapon was valued as much for its psychological warfare effect as its actual field performance. It was believed that if vast quantities of these weapons could be delivered into Axis-occupied territory, it would have a devastating effect on the morale of occupying troops. The plan was to drop the weapon in such great quantities that occupying forces could never capture or recover all the weapons. It was hoped that the thought of thousands of these unrecovered weapons potentially in the hands of the citizens of occupied countries would have a deleterious effect on enemy morale.
General Eisenhower's staff never saw the practicality in mass dropping the Liberator over occupied Europe and authorized distribution of fewer than 25,000 of the half million FP-45 pistols shipped to Great Britain for the French resistance. Generals Joseph Stillwell and Douglas MacArthur were similarly unenthusiastic about the other half of the pistols scheduled for shipment to the Pacific. The Army then turned 450,000 Liberators over to the OSS. Resistance fighters in both theatres were supplied with more effective weapons whenever possible, and French use of the FP-45 remains undocumented; although OSS distributed a few to Greek resistance forces in 1944. One-hundred-thousand FP-45 pistols were shipped to China in 1943, but the number actually distributed remains unknown. A few were distributed to Philippine troops under the Commonwealth Army and Constabulary and resistance fighters.
This example is in nice shape and would be a great addition to any WWII small arms collection. Please see our photos and good luck!
CA Legal or CA Private Party Transferable (THIS SECTION DOES NOT APPLY TO OUT-OF-STATE RESIDENTS): This C&R Pistol CAN be sold as a dealer sale in California and CAN be transferred as a Private Party Transfer (PPT) as our Simi Valley location. All C&R firearms must be transferred through your local dealer OR at our Simi Valley location; we cannot ship directly to a C&R holder in California. Out of state residents can disregard this section – your local laws apply.